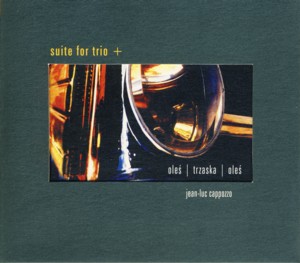 OLES BROTHERS / MIKOLAJ TRZASKA / JEAN-LUC CAPPOZZO ~ SUITE FOR TRIO +
FENOMMEDIA 001 (Barcode: 5907604327012) ~ POLAND ~ Jazz
Recorded: 2003
Released: 2005
---
This is the first album released on the Fenommedia

Find albums on this label

label, owned by Polish Jazz musicians: bassist Marcin Oles

Find albums by this artist

and drummer Bartlomiej Oles

Find albums by this artist

, collectively known as Oles Brothers

Find albums by this artist

. It also features the iconic Polish Jazz saxophonist / clarinetist Mikolaj Trzaska

Find albums by this artist

, who was a member of a trio with the Oles Brothers at the time and the excellent French trumpeter Jean-Luc Cappozzo

Find albums by this artist

. Together, as a quartet, they perform eight original compositions, five of which were composed by Bartlomiej Oles, one by Trzaska, another one by Marcin Oles and Trzaska and the remaining one is credited to all four musicians.

The music is a wonderful strain of modern Polish Jazz, which flourished again since the beginning of the 21st Century, revitalized by a new generation of excellent and gifted young players, who were not only well schooled but also shared a passion for the music and were completely original and unstoppable. The three Polish Jazz representatives on this album are just a tip of the proverbial iceberg.

Although structured and pre-composed, this music displays a tremendous amount of freedom, both in form and content. Trzaska, one of the founders of the Polish Yass a decade earlier, is a born rebel and shuns conventions of any sort. This album presents a rare opportunity to actually hear him play somewhat restrained and well tempered, but always beautifully expressive and emotional. Cappozzo also contributes some wonderful freely improvised passages, always just right for the occasion. It is for the rhythm section to play the role of the musical compass and lead the music to safe shores. Together the quartet performs simply magnificently, in a spirited and intelligent way, which balances perfectly between the written notes and the freedom of expression.

These are four excellent musicians, a fact which is apparent immediately, and as an ensemble they function as a cohesive unit, which delivers unusual and interesting music, keeping the listener on his toes from the first note to the last. This music maintains its charm and remains untouched by time, always worth being revisited.
---