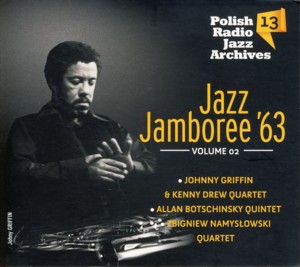 VARIOUS ARTISTS ~ POLISH RADIO JAZZ ARCHIVES VOL.13
POLSKIE RADIO 1663 (Barcode: 5907812246631) ~ POLAND ~ Jazz
Recorded: 1963
Released: 2014
---
This is the thirteenth installment in the new series of releases initiated by the Polish Radio, which presents archive Jazz recordings. Radio recordings are always a fabulous source of remarkable material, and as far as Polish Jazz history is concerned, the Polish Radio, which was a state monopoly for 45 years, recorded over time a plethora of invaluable material, which apart from the albums released by the Polskie Nagrania record company (also a state monopoly), is the only available additional source of Polish Jazz recordings. For many years Polish Radio recorded concerts presented during Poland´s most important Jazz venues, including the annual Jazz Jamboree Festival and many other festivals as well.

The material collected here presents a second volume of recordings made in 1963 during the sixth Jazz Jamboree festival in Warsaw. It starts with two lengthy tracks, both treatments of classic Jazz standards, by the legendary American saxophonist Johnny Griffin

Find albums by this artist

and his quartet. Prior to this recordings Griffin, like many of his Afro-American colleagues, moved to Europe, where Jazz was experiencing an explosive development and was considered an Art Form and racial discrimination was almost completely absent. The quartet includes fellow American pianist Kenny Drew

Find albums by this artist

, who settled in Europe a couple of years earlier, Dutch guitarist Wim Overgaauw

Find albums by this artist

and Dutch bassist Ruud Jacobs

Find albums by this artist

. Followers of this series are of course aware of the fact that the eleventh volume already presents a double CD with material recorded by Griffin at the same festival with the same musicians. Personally I´d have preferred to have that release expanded into a triple CD set and have all the Griffin sessions together, but I´m not the series´ editor.

Next come three tracks by the Danish trumpeter Allan Botschinsky

Find albums by this artist

and his quintet with American born saxophonist Ray Pitts

Find albums by this artist

, who moved to Denmark in 1962, pianist Atti Bjoern

Find albums by this artist

(name most probably miss spelt), bassist Benny Nielsen

Find albums by this artist

and American drummer Robert Joseph (real name Robert Joseph Durham or Bobby Durham

Find albums by this artist

as he was known to all – Polskie Radio should have known this, especially since I already made this comment / correction on the a.m. Griffin album – please read people! The music is all original and includes two compositions by Pitts and one by Botschinsky. It is typical bee bop, well played, especially by the leader who was a first rate trumpeter, but not extraordinary in any sense.

The two tracks closing the album are the most interesting for the Polish Jazz fans and they present the Zbigniew Namyslowski

Find albums by this artist

quartet with pianist Wlodek Gulgowski

Find albums by this artist

, bassist Tadeusz Wojcik

Find albums by this artist

and drummer Czeslaw Bartkowski

Find albums by this artist

, the same quartet that would record several months later in Britain the legendary album "Lola

Find albums with this title

", the first significant exposure of Polish Jazz behind the Iron Curtain. Both are original compositions by Namyslowski, the first would be the title track of the British LP and the second seems to be the only appearance of this composition on record. These are the initial steps of the first golden decade of Polish Jazz, and as such their documentation is priceless, as is the music.

The beautifully restored sound quality is excellent and the warm ambience of the analog recording is a true joy. As usual with this series, which is very reasonably priced, I miss the presence of "in depth" liner notes / booklet, which should convey the circumstances at which this music was recorded and its importance to the development of Jazz in Poland. Nevertheless this is an absolutely essential piece of Jazz history which every Jazz fan will surely consider an absolute must.
---