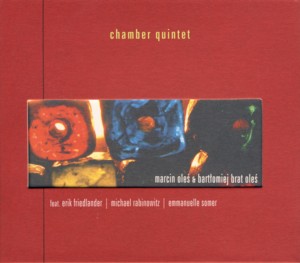 OLES BROTHERS ~ CHAMBER QUINTET
FENOMMEDIA 003 (Barcode: 5907604327036) ~ POLAND ~ Jazz-Classical Fusion
Recorded: 2004
Released: 2005
---
This is an interesting recording, initiated by Polish Improvised Music heroes, brothers Marcin Oles

Find albums by this artist

(bass) and Bartlomiej Oles

Find albums by this artist

(drums) collectively known as Oles Brothers

Find albums by this artist

, which involves also three additional musicians: American cellist Erik Friedlander

Find albums by this artist

, American bassoon player Michael Rabinowitz

Find albums by this artist

and Belgian oboe player Emmanuelle Somer

Find albums by this artist

. They perform together as a quintet eleven pieces, nine of which were composed by Bartlomiej Oles and two by Marcin Oles.

The music presents an innovative idea to create Improvised Music, using Classical chamber instrumentation, ambience and to a certain extent also methodology. As farfetched and bizarre as the idea might appear at first, this album proves that is can be done and the result can genuinely offer some perfectly valid and beautiful music. The pieces present a wide range of musical ideas, some quite melodic, others more atmospheric, but always interesting and even fascinating.

The level of musicianship on this album is truly outstanding. All the participants possess virtuosic abilities and utilize them with astounding effectiveness. The same applies to their cooperation and the overall ensemble functionality. It is very difficult to believe that this is indeed Improvised Music, as it sounds completely coherent and synchronized at all times. To an innocent listener unaware of what is being played, this music might sound similar to contemporary Classical Music, with a twist, and after all it might be considered as such.

The album is a great example of the unlimited possibilities that music offers to the listeners, when created by daring and ground-breaking Artists. Assimilating many different elements, not only from Jazz and Classical Music, but also World Music, especially Jewish and Middle Eastern themes that are very clear to a trained ear, this is a true cross-genre excursion definitely worth experiencing. Satisfaction guaranteed!
---