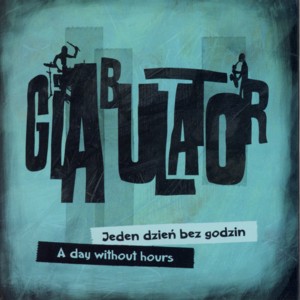 GLABULATOR ~ A DAY WITHOUT HOURS
NOT ON LABEL (Barcode: 5903111550004) ~ POLAND ~ Jazz
Recorded: 2012
Released: 2013
---
This is the debut album by the experimental Polish Jazz duo Glabulator

Find albums by this artist

, founded in 2005 by saxophonist Tomasz Glazik

Find albums by this artist

(Syfon

Find albums by this artist

, Sing Sing Penelope

Find albums by this artist

) and drummer Jacek Buhl

Find albums by this artist

(Syfon

Find albums by this artist

and many others), two of the most respected activists on the Avant-Garde scene in the town of Bydgoszcz and its legendary club "Mozg". Following a long period of inactivity since 2007 the duo combined forces again in 2012 and recorded this album in the studio located in the same club, which includes ten original compositions / improvisations credited to the duo.

The music is quite diverse, ranging from completely improvised pieces to almost danceable melodic exercises, which are nostalgic reminiscences of the Yass period. Glazik plays tenor saxophone, bass clarinet and synthesizers and creates a wide range of sounds and effects, creating often the effect of a whole ensemble. Buhl, who is one of my favorite drummers on the Polish scene, presents again his incredible musicality and virtuosic control of his array of percussive instruments. Together they create an ambience of adventure, which keeps the listens in full suspense throughout the entire album.

This music beautifully combines the concept of freedom with the elements of melody and rhythm, which are the basic building blocks of music, and therefore is able to be attractive to a relatively wide range of open-minded listeners, which is usually quite difficult to achieve in the Free / Improvised Music environment.

This is yet another document of the incredible vitality and versatility of the Polish Jazz scene, which seemingly knows no borders and simply explodes with both established and new talent. Listeners who have been following the careers of the duo members will find this album as another interesting step in their development. For others this is a wonderful opportunity to discover the magical world of Glabulator and take an enchanted voyage with them.
---