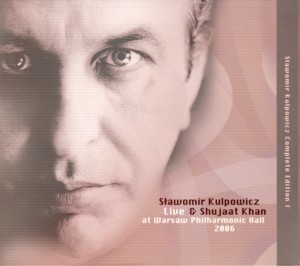 SLAWOMIR KULPOWICZ / SHUJAAT KHAN ~ LIVE
POLSKIE RADIO 1250 (Barcode: 5907812242503) ~ POLAND ~ Jazz-World Fusion
Recorded: 2006
Released: 2013
---
This is the fourth installment in a series of releases documenting the recorded legacy of the great Polish Jazz pianist / composer Slawomir Kulpowicz

Find albums by this artist

, most of which is released for the first time. Kulpowicz, who died prematurely in 2008 at the age of 56, was a victim of cancer. He was a member of groups led by the top Polish Jazz players like Zbigniew Namyslowski

Find albums by this artist

and Tomasz Stanko

Find albums by this artist

and led / co-led his own ensembles like The Quartet

Find albums by this artist

, In-Formation

Find albums by this artist

and also cooperated with many other musicians over the years. He was an avid follower of John Coltrane

Find albums by this artist

´s music and kept in touch with Coltrane´s wife Alice Coltrane

Find albums by this artist

. Following his visit to India, Kulpowicz discovered Indian music and the spiritual aura of India, which became his own.

Kulpowicz visited India for the first time in 1978, when he was a member of the Zbigniew Namyslowski quartet, which played at the Jazz Yatra in Bombay. At the time he met and befriended a young sitar player Shujaat Khan

Find albums by this artist

, a descendant of the legendary Khan dynasty of sitar players since hundreds of years. That friendship lasted for almost thirty years as long as Kulpowicz was alive. They played together many times in Poland and abroad. In 1984 Khan visited Poland and recorded a live album with Kulpowicz for the Poljazz

Find albums on this label

label. The last time they played together was in 2006, when Khan visited Poland again, bringing with him the tabla player Arunangshu Chaudhury

Find albums by this artist

. Kulpowicz invited the legendary Polish electric bassist Krzysztof Scieranski

Find albums by this artist

and the four played together the music presented on this album, which was recorded live at Warsaw Philharmonic Hall.

Considering the fact that European (including Jazz) and Indian music exist on almost completely separate planes, the amalgamation of the two is extremely difficult to achieve. Except for a very few earlier attempts, most importantly the John Mayer

Find albums by this artist

/ Joe Harriott

Find albums by this artist

Indo-Jazz Fusions

Find albums by this artist

from the late 1960s / early 1970 and the John McLaughlin

Find albums by this artist

´s Shakti

Find albums by this artist

a decade later, which were groundbreaking and musically just right, most of the other attempts resulted in failures. The music included on this album proves again, that the power of music transcends not only cultural borders but also thousands of years of musical tradition, enabling conversations between musicians originating seemingly from worlds apart.

The album comprises of just three extended pieces, two of which are about half an hour long and the third a quarter of an hour in duration. Named simply "songs", they are improvisations on melodic themes composed by Kulpowicz, performed wonderfully and in perfect harmony by all four musicians. Khan voices the melody at the onset of each piece and then the musicians take extensive solos in turn, with the full quartet returning to the melodic theme several times between the solos. Kulpowicz plays superbly and his solos are simply outstanding statements in the John Coltrane tradition, emphasizing the close relationship between Coltrane´s music and the Indian influences, which are often difficult to be discovered in his music, but come to wonderful realization when performed by Kulpowicz. There is so much passion in his playing that one suspect that his premonition as to his fate was already hunting him.

Khan, who since the early meeting with Kulpowicz achieved a Masterly status in Indian music, is an obvious sitar virtuoso and his solos are also breathtaking. Chaudhury and Scieranski, although a priori destined to fulfill a less dominant role in this music, perform both splendidly and their contributions are invaluable. Scieranski especially is to be prized, as his elegant and delicate bass tones manage to keep a perfect balance with his partners and the music which usually exist without the bass foundation so typical in European music.

The music is beautifully recorded and has an outstanding sound quality, especially in view of the fact that it is a live recording. Musically it is one of the finest examples I have ever come across of cross-cultural amalgam that work naturally as "God intended". An absolute must to World-Music enthusiasts and all connoisseurs of great music, regardless of genre, geography or cultural affiliation. Respect!
---