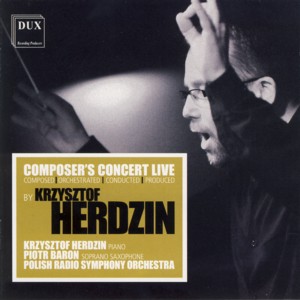 KRZYSZTOF HERDZIN ~ COMPOSER`S CONCERT LIVE
DUX 0970 (Barcode: 5902547009704) ~ POLAND ~ Jazz-Classical Fusion
Recorded: 2012
Released: 2013
---
Polish pianist / composer / arranger / conductor Krzysztof Herdzin

Find albums by this artist

, who is in his early forties at the time these words are being written, managed to create an entire universe of music in the relatively short span of his life so far; a universe so diverse and overwhelmingly rich in forms, idioms and palette that one begins to wonder if the Artist will ever reach his limits and become finally content and contained.

Herdzin has been tightrope walking for some time now between Jazz and Classical Music, obviously deeply involved in both genres. Sometimes his works try to amalgamate the genres, creating a Jazz-Classical Fusion, but he also composes "strictly" Classical Music, which is presented on this live recording. Here Herdzin conducts the Polish Radio Symphony Orchestra

Find albums by this artist

, which performs seven of his compositions. Five of these compositions are orchestral works, with two involving only strings and the other three the entire orchestra, another one involves an improvising saxophonist – in this case the brilliant Piotr Baron

Find albums by this artist

– and the last one is a piano concertino in three parts, on which the composer also plays the piano.

Contrary to what one might expect, Herdzin as a Classical Music composer does not follow the Polish "modernist school", which includes such distinguished composers as Krzysztof Penderecki

Find albums by this artist

, Witold Lutoslawski

Find albums by this artist

, Henryk Gorecki

Find albums by this artist

and Wojciech Kilar

Find albums by this artist

, to mention just the most renowned names. His inspiration is obviously much closer to the French modernists / impressionists like Claude Debussy

Find albums by this artist

and Maurice Ravel

Find albums by this artist

and the more Avant-Garde "Les Six" group, but of course many other distinguished composers he admires. His works are always full of romanticism and lyricism and are beautifully melodic, which makes them sound "easy" / "pleasant", even if they are in fact quite complex in their structure, harmony and form.

The music presented here follows Herdzin´s tendency for creating melodic, romantic and mostly joyful music, which can be enjoyed by a wide spectrum of listeners, which can encompass his Jazz listeners as easily as fans of Classical Music. His Jazz persona is evident in the piece involving the saxophone improvisation, which is stunningly performed and definitely is one of the album´s highlights. The piano concertino also includes quite a few Jazzy hints and undercurrents. Herdzin does not present any groundbreaking discoveries herein, but his music is a very solid statement and pays tribute to his many talents.

Overall this is a lovely and aesthetically pleasing piece of music, excellently performed and very well recorded, as much as being a great listening experience. Wholeheartedly recommended!
---