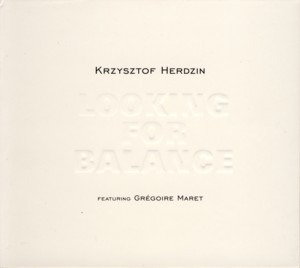 KRZYSZTOF HERDZIN ~ LOOKING FOR BALANCE
UNIVERSAL 602527877860 (Barcode: 602527877860) ~ POLAND ~ Jazz
Recorded: 2010
Released: 2011
---
Polish pianist / composer / arranger Krzysztof Herdzin

Find albums by this artist

is without a doubt not only the most versatile musician in his country, but also extremely prolific and obviously accordingly talented. He likes to work with as many different musical settings as possible, from a piano trio to large scale orchestral extravaganzas, seemingly with equal ease and success. This is one of such "out there" projects, which features Herdzin´s original music played by a Jazz ensemble and accompanied by a full scale string and woodwinds orchestra.

The ensemble comprises of Herdzin´s regular trio, with bassist Robert Kubiszyn

Find albums by this artist

and drummer Cezary Konrad

Find albums by this artist

, and three guests: guitarist Marek Napiorkowski

Find albums by this artist

, saxophonist Piotr Baron

Find albums by this artist

and Swiss harmonica player Gregoire Maret

Find albums by this artist

(of Pat Metheny

Find albums by this artist

Group fame), who is the featured soloist. The Sinfonia Viva

Find albums by this artist

Orchestra is responsible for the orchestral parts.

The music belongs broadly to the Jazz & Strings format, which of course was tried many times before. The Jazz ensemble plays a set of very melodic, relaxed and lyrical compositions, taking solos in turn, with Maret being the principle soloist. The harmonica is relatively rarely used as a solo instrument in the Jazz framework and with the exception of a few known cases (most notably the Belgian Toots Thielemans

Find albums by this artist

) is usually associated with less challenging music. Of course in the hands (and mouth) of a very talented player it can sound quite virtuosic, as is the case here, but it adds another dimension of "sweetness" to the proceedings, which borders with overdoing it. Personally Baron´s contributions on this album are the most interesting, albeit being decisively too limited.

The orchestral arrangements are elegant and kept in good taste, playing only the second fiddle (pun intended) in the proceedings. Although excellently played and masterfully arranged, they seem to be merely ornamentation, contributing little to the actual musical content other than setting an atmospheric background. There is definitely a fine balance and cooperation between the ensemble and the orchestra, but full musical integration is not achieved here, perhaps purposely. Herdzin of course proves that he can easily handle the orchestral arrangements any way he pleases.

Overall this is a very nice album, which many listeners will find pleasing and enjoyable. For hardcore Jazz fans this might be a bit too sweet to swallow (especially those with diabetes like myself), but nevertheless it is professionally executed classy music, accessible to a wide audience, which definitely has its merits.
---