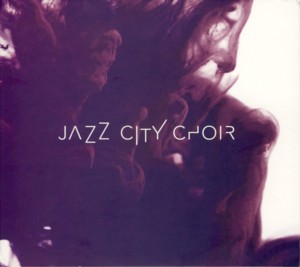 JAZZ CITY CHOIR ~ JAZZ CITY CHOIR
AMI 001 ~ POLAND ~ Jazz-Classical Fusion
Recorded: 2012
Released: 2012
---
This is the excellent debut album by Polish vocal ensemble Jazz City Choir

Find albums by this artist

, which comprises of nine female and male vocalists singing together arrangements of Jazz compositions in a new and unprecedented way. Although vocal Jazz ensembles, usually quartets, have a longstanding tradition in Jazz, and even in their native Poland (the superb NOVI

Find albums by this artist

quartet), there were very few attempts to take Jazz vocals to the full extent of choir level, like this one. Listeners familiar with this particular niche might remember the work of Singers Unlimited

Find albums by this artist

, which also used a choir effect, but it was achieved by multi-tracking the four members of the ensemble, whereas here we have a genuine choir at hand.

The album presents six compositions, four of which are Jazz standards arranged by Pawel Zielak

Find albums by this artist

, the choir´s house arranger, and two compositions created especially for the choir, one by its soprano singer Joanna Kucharczyk

Find albums by this artist

and another by composer Jan Sanejko

Find albums by this artist

, a young and very talented person worth watching!. Five of the six compositions feature a lead soloist, which in four cases is the choir´s music director and conductor Anna Gadt

Find albums by this artist

and in one case the wonderful Polish singer Grzegorz Karnas

Find albums by this artist

. Five of the compositions feature vocalese only and one – Chick Corea

Find albums by this artist

´s "Spain" – features partly lyrics, written by Al Jarreau

Find albums by this artist

and sung in English.

The initial impact of this album is completely overwhelming; the power, complexity and inherent beauty of human voices harmonizing and building up multi-layered structures, multiplied by ten individual sound signatures, is breathtaking. Of course in time the initial shock gives way to a more articulate reception, but moving on into the music the stimulation of brain cells continues up to the moment when the very last sound resonates into silence. This is really something else…

Of course a detached and coolheaded analysis reveals certain problems and imperfections, most serious of which is the dichotomy between the musical devices (in this case choral devices) used by the choir, which almost all originate in the world of Classical Music or even earlier musical forms like Medieval chants or early Church music. The transition of these devices into the world of Jazz has puzzled many composers / performers over the years, with varying results. Nevertheless, Jazz City Choir manages to swing at all times, which after all is the basic quality one expects from anything under the Jazz umbrella, even if their tools and paraphernalia originate in another world. Using lyrics, and especially in English, was a completely unnecessary move, exposing their weakest link, but considering it is a minor part of the entire presentation, it can be easily forgiven and hopefully forgotten.

Overall this is a stunning debut and the thought what these people might come up with next is scary (in a positive way). I simply can´t wait! It´s an absolute most for anybody fond of vocal Jazz in all forms and shapes and of course for connoisseurs of the Jazz-Classical Fusion sub-genre. Respect!
---