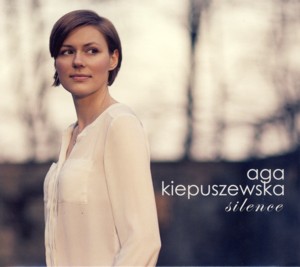 AGA KIEPUSZEWSKA ~ SILENCE
POLSKIE RADIO 1519 (Barcode: 5907812245191) ~ POLAND ~ Jazz
Recorded: 2011
Released: 2012
---
This is the debut solo album by Polish Jazz vocalist / songwriter Aga Kiepuszewska

Find albums by this artist

, who also took part in the phenomenal album she recorded with the Polish Jazz ensemble Soundcheck

Find albums by this artist

, called "Marysia – Wiersze Z Kazachstanu

Find albums with this title

". On this album Aga presents ten original songs, five of which were composed by Soundcheck´s leader, saxophonist Maciej Kocinski

Find albums by this artist

, two by keyboardist Nikola Kolodziejczyk

Find albums by this artist

, who accompanies Aga on this album, another two by keyboardist Kamil Urbanski

Find albums by this artist

and the remaining one by Aga herself. Aga wrote the lyrics to eight of the songs (two in English and the rest in Polish) and the remaining two are poems by the great Polish poet and Nobel Prize laureate Czeslaw Milosz

Find albums by this artist

. One of the songs appears twice on the album, the second time as a bonus track in the form of a radio edit. The two other musicians supporting Aga on this album are bassist Maciej Szczycinski

Find albums by this artist

and drummer Robert Rasz

Find albums by this artist

.

This is definitely a very ambitious project, which reflects Aga´s many talents at their best. The fact that the album made little impact on the local scene is truly criminal, and the only logical explanation could be the astonishing plentitude of wonderful Jazz being produced in Poland these days, but nevertheless this is an album, which deserves much more attention.

As a vocalist, Aga emerges full of self confidence and wonderful sensibility, which is evident from the moment she opens her mouth. She is in full control of her voice, both on the acoustic as well as the emotional scales. Her timbre and mannerisms are remarkably close to those of the "other" Aga of Polish Jazz, Aga Zaryan

Find albums by this artist

of course. Perhaps the fact that Aga Kiepuszewska chose to sing deeply lyrical and poetic material and her innermost feelings are reflected in her vocals are the cause of the proximity. However, there is no attempt here of consciously copying Zaryan´s style, and the young Kiepuszewska will surely reach her completely unique and personal manner of expression in the not too distant feature.

The amazing lyrics Aga wrote for her songs are another big surprise, which in the age when completely moronic songs rule the airwaves, are truly exceptional. Deeply personal, these little pearls are remarkably poetic and meaningful, fitting the music perfectly. Good lyrics are so difficult to find these days and this album is full of them; how wonderful!

Aga gets a superb support from the trio, which accompanies her with obvious empathy and elegance. Kolodziejczyk is a great player with virtuosic qualities and remarkable sensitivity, and is one of the upcoming stars of the Polish Jazz scene. Szczycinski, who plays solidly and supportively, also uses arco passages and even utilizes the Middle Eastern oud to make the outmost effort to make this music as perfect as possible. Rasz also makes the best of it all, playing with varying intensity always in sync with the music and utilizing additional percussion instruments to enhance the overall result.

All in all this is a remarkable debut effort, which hopefully is a forerunner to other great achievements, just please Aga don´t keep us in suspense for too long. This is wholeheartedly recommended to all lovers of vocal Jazz, Polish Jazz and good music in all forms and shapes. Kudos!
---