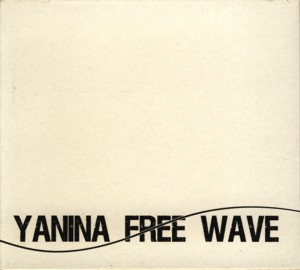 JANUSZ YANINA IWANSKI ~ YANINA FREE WAVE
MTJ 10934 (Barcode: 5906409109342) ~ POLAND ~ Jazz
Recorded: 2011
Released: 2011
---
This is an excellent album by veteran Polish Rock and Jazz guitarist / composer Janusz Yanina Iwanski

Find albums by this artist

, recorded with a quintet which also includes saxophonists Lukasz Kluczniak

Find albums by this artist

(alto) and Marek Pospieszalski

Find albums by this artist

(soprano and tenor), bassist Marcin Lamch

Find albums by this artist

and drummer Przemyslaw Pacan

Find albums by this artist

. The album comprises of six original compositions, five of which were composed by Iwanski and one is a group composition. Three of the compositions are quite extensive and last between eleven and sixteen minutes. The last track on the album is dedicated to the memory of the great Polish trumpeter Andrzej Przybielski

Find albums by this artist

, who died shortly before the album was released and with whom Iwanski played in the past.

The music is a unique cross-genre amalgam, which moves between Jazz-Rock Fusion, ambient / atmospheric improvised stretches and quite Free passages with the guitar and both saxophones improvising simultaneously. A strong melodic presence is felt throughout the entire duration, moving between the foreground and the background of whatever is happening in the course of the performance. Overall the album is mostly Free Jazz oriented and most of the time the group improvisation is the focus, although several simpler and more lyrical moments also materialize. Regardless of any attempts to categorize this music, it is quite elusive and listening to it is the only proper way to deal with it.

The individual instrumental performances are all quite excellent, as all these musicians are obviously highly talented. Iwanski plays some superb guitar licks, which one expects to find only on albums by the top guitar players around. His tone is fairly unusual and clear and his work will surely make many guitar freaks extremely happy. Both saxophonists play with passion and conviction, both able to play unisono or play against each other like fighters in a ring. The rhythm section does a perfect job, keeping the music right on track. The bass is solid and steady and the drums strongly present and almost as aggressive as the soloists, which is exactly what this music needs.

It´s a pity this album found only a limited audience, as it truly deserves to be heard by a lot of people, who listen to the different sub-genres of Jazz, as there is something for everybody herein. As all good music this is not easy-listening by any standard, but will definitely grow on the listener with consecutive listening sessions. Therefore people looking for challenging, innovative and highly absorbing new musical vistas should check this album out as soon as possible and as long as it can be found on the market, before it disappears into the great limbo, where all good music seems to be sucked into these days. Great stuff!
---