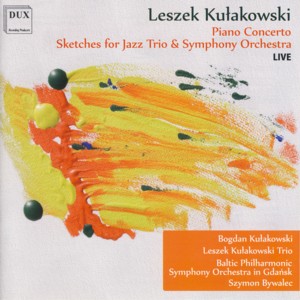 LESZEK KULAKOWSKI ~ PIANO CONCERTO / SKETCHES FOR JAZZ TRIO & SYMPHONY ORCHESTRA
DUX 0387 (Barcode: 5902547003870) ~ POLAND ~ Jazz-Classical Fusion
Recorded: 2011
Released: 2012
---
Polish pianist / composer Leszek Kulakowski

Find albums by this artist

is undoubtedly one of his country´s most idiosyncratic musical personalities, spearheading and representing the continuous love affair between Jazz and Classical music in his country. Considering the fact that most Polish Jazz musicians are graduates of musical academic institutions, some of them with Classical as well as Jazz studies behind them, it is hardly surprising that the amalgamation of these two genres happens quite often on the Polish scene. Some Polish Jazz musicians play their interpretations of Classical compositions, most often those by the Polish pianist / composer Frederic Chopin

Find albums by this artist

; others utilize Classical music methods, devices and techniques in their Jazz compositions; and yet others compose large scale compositions, often involving entire symphonic orchestras, like the music by Kulakowski included herein.

This album includes two separate works by Kulakowski, both involving piano and a symphony orchestra: his "Piano Concerto" and the "Sketches For Jazz Trio & Symphony Orchestra". The piano concerto is performed by his brother Bogdan Kulakowski

Find albums by this artist

as the soloist and the sketches are performed by a piano trio, this time with the composer in the piano chair, with bassist Piotr Kulakowski

Find albums by this artist

and drummer Jacek Pelc

Find albums by this artist

. Both works are performed with the Baltic Philharmonic Symphony Orchestra

Find albums by this artist

in Gdansk conducted by Szymon Bywalec

Find albums by this artist

. The music was recorded live at the Baltic Philharmonic in Gdansk during the Komeda Jazz Festival.

Although this is by far not the first attempt of its kind to merge Jazz and Classical music, the music on this album is quite surprising, principally as far as the attempt to create a bona fide Classical composition, especially in the case of the piano concerto, rather than a more "entertaining" mixture of the genres, which could be much more accessible to the average listener. There have been very few attempts to compose a piano concerto, soaked with Jazz undertones and yet so typically Classical in approach and structure. The obvious example of George Gershwin

Find albums by this artist

´s "Piano Concerto in F" (and his other works) comes to mind immediately, not suggesting any direct links between these works, but as a point of reference. The composer seems certainly to be able to create a fully organic, although stylistically retrograde, piece of Classical music, which is moving and aesthetically fulfilling. The Jazz citations, chords and references will be of course more obvious to listeners with a Jazz background rather than to those with a strict Classical one, but both should be able to immensely enjoy the music.

The sketches are definitely more "entertaining", with easily recognizable melody lines and fine lyrical atmosphere, lush string accompaniment and nice orchestral "outbursts" always in the right places. This is an elegant and intelligent piece of music, and although less original than the piano concerto, it has its own merits, especially the wonderful balance and integration between the trio and the orchestra, which is usually the weakest link of this type of musical encounters.

The performances are quite excellent, both those by the soloists and by the orchestra. The live recording is somewhat mushy and lacking definition, but mostly well balanced, but that is a matter for fineschmeckers to deliberate upon; most listeners should be utterly satisfied with the sonic quality, on top of their admiration of the musical contents.

This album is an excellent testimony as to the versatility, quality and artistic ability of the Polish Jazz scene, which has truly very little competition elsewhere. Of course it is another superb addition to the musical legacy of Leszek Kulakowski, who is surely about to take all his admirers by surprise again sometime in the near future. Kudos Maestro!
---