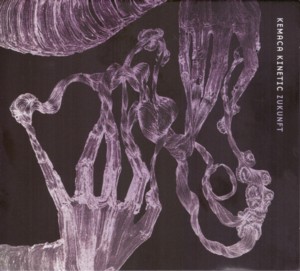 KEMACA KINETIC ~ ZUKUNFT
BERTHOLD 4250647323130 (Barcode: 4250647323130) ~ DENMARK ~ Avant-Garde Jazz-Rock Fusion
Recorded: 2023
Released: 2023
---
This is the debut album by the Danish Fusion trio Kemaca Kinetic

Find albums by this artist

, comprised of guitarist Casper Hejlesen

Find albums by this artist

, bassist Kenneth Dahl Knudsen

Find albums by this artist

and drummer Matias Fischer

Find albums by this artist

. The album presents seven tracks, five of which were composed by Knudsen, one by Hejlesen and one by all the trio members.

I have been following the career of Knudsen since his arrival on the European Jazz scene over a decade ago, and his projects have been always highly surprising, innovative and challenging, and this one is no exception. Although Fusion oriented, it is quite different from what is usually considered as Fusion. While featuring a lead electric guitar, the music amalgamates elements of Ambient, Electronics, the usual Rocky beats but also Free Improvisation and a plethora of other influences, all beautifully combined together into a unique, striking and uplifting whole.

I have never heard of Hejlesen, but he certainly is a truly interesting and "different" guitarist, playing the usual and also completely unusual licks with ease and elegance. Certainly a player worth investigating. Fischer adds his energetic and tasteful rhythmic support, which pushes the music forward with a zest. I am mostly familiar with Knudsen's work as acoustic bass player, but here he plays the electric bass, as usual with great musicality and precision. And of course his compositions are as strong as always, as he weaves truly magical melodies.

Overall, this is a highly original Fusion album, completely unlike almost everything within the genre, and absolutely storming the listener's brain. There are very few innovations within the Fusion idiom since it started decades ago, but this album certainly could be a sign of a resurrection of the somewhat stale musical environment. Well done Kenneth, my Friend, and hats off to all three of you!
---