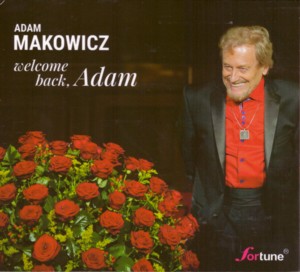 ADAM MAKOWICZ ~ WELCOME BACK, ADAM
FOR TUNE 0164 (Barcode: 5906395808786) ~ POLAND ~ Jazz
Recorded: 2022
Released: 2023
---
This is a solo piano album by Polish Jazz pianist / composer Adam Makowicz

Find albums by this artist

, who left Poland in 1977 and settled in NY, where he released his first American album on Columbia

Find albums on this label

, simply entitled "Adam

Find albums with this title

". Later on Makowicz moved to Canada, where he currently resides, visiting and performing occasionally in Poland. This album, recorded 45 years after his American debut, is a closure of sorts, as the title suggests. The album presents seventeen tracks, eight of which are original compositions by Makowicz and nine are standards. The music was splendidly recorded at the Nowa Miodowa concert hall in Warsaw.

The music is a delightful recital of relaxed and virtuosic performance, which presents Makowicz at his most melodic and elegant self. There seems to be no distinction between the original music and the well-known standards, which speaks volumes about his compositional abilities. Makowicz fully embraced the American Jazz tradition and his music sounds completely authentic and spiritually akin to the music composed in America almost a Century earlier by its best composers.

Makowicz is blessed with a very personal touch on the keyboard, which is blissfully elegant and often somewhat humorous, which invokes an immediate smile of "familiarity" on the listener's lips. The excellent sound quality and atmosphere of the recording adds an aura of "class" and grace, which makes the virtuosic performances completely accessible and natural sounding, which of course is a great gift of the Artist.

Overall, it is an absolute delight to hear the Master at such form and dexterity, not to mention the fact that fact that the album offers a generous amount of new compositions, which are always most welcome. The album definitely summarizes the American chapter of the pianist's career at a most affirmative way, and the fact that this time the album was recorded and released by a Polish record label certainly closes the fate's circle.

Side Note:

This is the 100th album released as part of the "magenta" Jazz Series by the fabulous Polish For Tune

Find albums on this label

Records label, and the 164th overall release. The innovative label releases also World Music, Classical Music and other ambitious projects and earned a distinguished position on the market in the last decade, since its inception in 2013. Congratulations, my Friends!
---