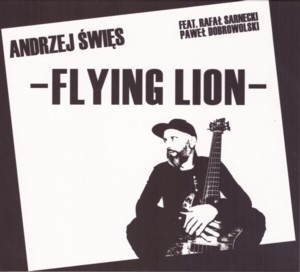 ANDRZEJ SWIES ~ FLYING LION
SJ 071 (Barcode: 5905489720027) ~ POLAND ~ Jazz-Rock Fusion
Recorded: 2021
Released: 2023
---
This is the debut album as a leader by Polish Jazz bassist / composer Andrzej Swies

Find albums by this artist

, recorded in a trio setting with guitarist Rafal Sarnecki

Find albums by this artist

and drummer Pawel Dobrowolski

Find albums by this artist

. The album presents eleven original compositions, nine composed by Swies and two improvised and credited the trio members.

It is hard to believe that after recording dozens of albums as a sideman and two albums as co-leader it is only now that Swies gets to record his true debut, but on the other hand many great musicians share this fate and sometimes never actually get to record as leaders, despite their achievements. Happily, in this case we get to hear this "baby" finally coming to fruition.

The music is everything one would expect from a bass-centered album, offering great melodic lines with Funky, Jazzy and sometimes even Rocky rhythmic approach, wonderfully executed by the trio. The sound is saturated by a plethora of bass sounds, some created directly by the instrument and others electronically enhanced / transformed, which allow Swies to display his virtuosity and boundless imagination in full. Contrary to the accepted formula, the music is not dominated by the guitar, which usually captures the front stage, but by the acrobatic bass guitar barrage of notes, which is absolutely dazzling.

Swies managed to select two perfect partners for the recording. Sarnecki, definitely one of the top Polish Jazz guitarists, takes a step back and amicably supports the leading bass guitar lines in the background, soloing sparingly, only when appropriate. Dobrowolski, another Polish Jazz maverick, who also likes to stand in the shadows, supports the music by his intense, but highly sensitive barrage, which never disturbs the leader thanks to the right sound balance of the recording. Together the trio manages to achieve a collective sound, which fully conveys the leader's music, expanding and supporting his ideas constructively and with great aesthetic sensitivity.

Overall, this is a highly unique, unusual album, which explores the world of the bass guitar and presents many previously hidden vistas of the instrument. It is not an attempt to show off and prove something, which Swies really does not need to do any more, but an honest attempt to create a bass-centered experience, which is no less than heaven for the lovers of the bass guitar and its world of sound. Now, that the deed is done, we can only hope that it will be repeated, and in the meantime thanks for this revealing piece of bass Artistry.
---