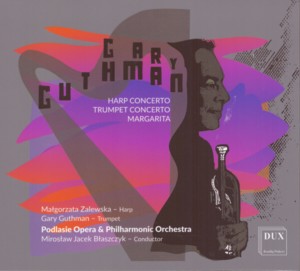 GARY GUTHMAN ~ HARP CONCERTO / TRUMPET CONCERTO / MARGARITA
DUX 1873 (Barcode: 5902547018737) ~ POLAND ~ Jazz-Classical Fusion
Recorded: 2022
Released: 2022
---
This is a great love story worth of a movie: "An American In Warsaw". My Friend and buddy, American Jazz trumpeter / composer Gary Guthman

Find albums by this artist

meets a beautiful Polish harpist Malgorzata Zalewska

Find albums by this artist

(Gosia as we call her) and his heart is lost forever, resulting in his relocation to Warsaw and a process of building not only a new life but also a new career, mostly as a composer.

This wonderful album documents some of his prolific output in the last years: a three-part harp concerto, which features Gosia as the soloist, a three-part trumpet concerto, which features Gary as the soloist, and finally a short piece for harp, trumpet and orchestra, which features the love birds together. They are accompanied by the Podlasie Opera & Philharmonic Orchestra

Find albums by this artist

, conducted my Miroslaw Jacek Blaszczyk

Find albums by this artist

.

The music is absolutely lovely, sort of Jazz-Classical Fusion, but sounding more like a superb cinematic scores, which might have been composed at the heyday of the Hollywood era, when music played a much more important role as part of the film industry, which is sadly not the case these days.

Guthman the composer, is deeply soaked in the Jazz tradition, and his music swings at all times, as well as being full of wonderfully crafted melody lines, similar to the modus operandi of all great American composers of musicals and cinematic music.

Of course Gosia and Gary are able to show their chops as excellent instrumentalists as well, each in his own capacity. Gosia brings her Classical Music expertise and Gary his Jazz Big Band spark, all in superbly elegant class and aesthetic aura. It's great to have a husband, who can write music for you, says Gosia, but honestly this music is way more than a family affair and offers an uncompromising Artistic value.

Overall, this is a truly splendid musical experience, full of beautiful melodic music, great instrumental work by the soloists and the orchestra, which is wonderfully amicable in this case, and a strong feeling of nostalgia, when this kind of music was at the helm. What can I do, I am after all a lost romantic… A pleasure to be your Friend, my Dears, and I am proud of you!
---