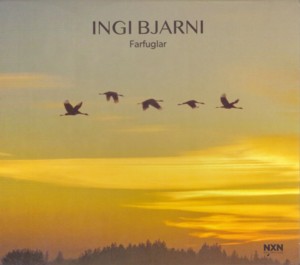 INGI BJARNI ~ FARFUGLAR
NXN 2014 (Barcode: 7090052640296) ~ ICELAND ~ Jazz
Recorded: 2021
Released: 2023
---
This is the fifth album by Icelandic Jazz pianist / composer Ingi Bjarni

Find albums by this artist

, recorded in a quintet setting with Norwegian trumpeter Jakob Eri Myhre

Find albums by this artist

, Estonian guitarist Merje Kagu

Find albums by this artist

, Swedish bassist Daniel Andersson

Find albums by this artist

and Norwegian drummer Tore Ljokelsoy

Find albums by this artist

. The album presents nine original compositions, all by the leader.

The music is deeply soaked in Folkloristic themes and Nordic atmosphere, offering a spacey balance between silence and sound, all very delicate and restrained. Bjarni suggests his skeletal melodies, which are then picked up by the members of the quintet and improvised upon, by exchanging notes, usually in very slow tempi. The music is all about echoes, moments of silence between the notes, a feeling of detachment and introspection.

Lovers of Nordic Jazz will find this mood familiar, but even for them this music is testing the patience in anticipation of the next note, which in fact is highly effective and builds a tension, despite the seemingly calm and relaxed development of the music. The result is therefore quite unique and requires some time to be absorbed and digested, as all complex and inimitable music does.

Overall, this is a very interesting piece of music, with a unique sound and unusual innovative approach to improvisation, which is almost impossible to find these days. It might take more than one listening session to decode this peculiar, but highly absorbing music making process and aesthetic approach, but eventually the result will emerge in its full glory. Enter all ye brave!
---