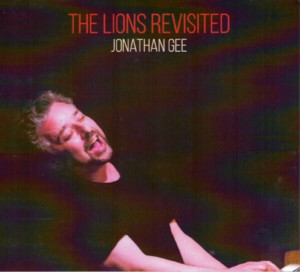 JONATHAN GEE ~ THE LIONS REVISITED
ASC 193 (Barcode: 7141148054074) ~ UK ~ Jazz
Recorded: 2021
- 2022
Released: 2022
---
This is an album by British pianist / composer / bandleader and now also vocalist Jonathan Gee

Find albums by this artist

. Active on the local British scene as well as in other European countries since the early 1990s, Gee has about a dozen albums as a leader to his credit, and about twice as many as a sideman, which certainly testifies about his experience.

This album marks a new step in his career, finding him in the role of a vocalist. The album presents eleven songs on which he accompanies himself playing piano. Bassist Andy Hamill

Find albums by this artist

guests on five tracks and guitarist Tom Remon

Find albums by this artist

guests on one track. Four of these songs are his own compositions and the rest are Pop / Jazz standards.

Gee is not really what most people would consider as a vocalist, but rather a vocal interpreter. Yes, he sings, but in a very unique way, which floats between spoken word, cabaret, acting and singing, all in a charming way, but quite idiosyncratic as it is. This of course really depends on the listener and how much he is willing to "bend" his concept of singing, before deciding if this is acceptable.

Me, being a flexible person and a libertarian as far as Arts are concerned, loved every piece of this unique approach and I hope other can follow suit. It takes a bit of sense of humor and a sense of fun, but this really is a lovely piece of music from start to finish. Just take the stick out of your behind.

Overall, this is a lovely adventure by a veteran Jazz pianist, who changes his vocation and steps boldly into the unknown. A good collection of songs we are all familiar with, interpreted with a twist, which some might dislike but many can enjoy – yours truly included. Life is too short to hang on to the samo-samo… way to go Jonathan!
---