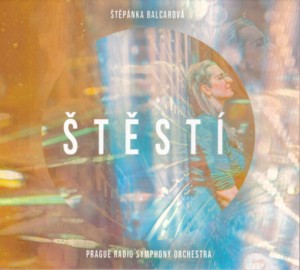 STEPANKA BALCAROVA ~ STESTI
RADIOSERVIS 1171 (Barcode: 8590236117129) ~ CZECH REPUBLIC ~ Jazz & Poetry
Recorded: 2022
Released: 2022
---
This is the second 'remake" project, that lands on my desk this week – statistically this is a miracle…

In 2017 the Czech trumpeter / composer / arranger / bandleader Stepanka Balcarova

Find albums by this artist

released her wonderful Jazz & Poetry album, entitled "Life And Happiness Of Julian Tuwim

Find albums with this title

", recorded with her Czech / Polish septet, which featured nine of her compositions to the poems by my favorite Polish poet Julian Tuwim

Find albums by this artist

. Now, five years later, she presents six of those compositions, expanded and accompanied by orchestral arrangements, performed by the same septet and the Prague Radio Symphony Orchestra

Find albums by this artist

, conducted by Marko Ivanovic

Find albums by this artist

. There is no point in repeating what I said about the previous recording, which you can read by clicking on the album's title, and my comments concentrate on the new recording.

My only reservation about the previous album were the vocal parts, which I am happy to say are well balanced with the rest of the music this time, taking a stone off my chest. The orchestral arrangements influence to aural outcome of the music, which is somewhat more distant from the Jazz & Poetry idiom, but not eliminating that delicate relationship entirely, which is a happy outcome. On the other hand, if the orchestral parts were not given a significant weight on this album, the entire concept of the remake might have been questionable. So, all things considered, this second approach is all for the best every way one looks at it (or rather listens to it).

The vocalist still uses her idiosyncratic voice with a theatrical emphasis, which of course is a subjective assessment, but balanced by the orchestra the vocal parts work splendidly this time. Her vocalese soloing is absolutely stunning. Obviously, the septet instrumentalists have way less space to solo and display their Jazz chops, but the piano parts are still omnipresent and the wonderful bass playing is the heartbeat of the music.

The music is so wonderful, that one can assume it would have sounded great in any variation. Balcarova's arrangements deserve nothing but praise and my only worry is that we might lose her Jazz oriented work in favor of other explorations, but I am sure she has still so much to say in her future accomplishments; that we won't be able to resist her charm and sophistication.

Overall, this is a fascinating piece of music and more, a superb Jazz & Poetry project, a great example of cross-genre exploration, in short a gem of an album. The level of creativity and musical Artistry present herein is absolutely astounding. If you love music and even if you don't speak Polish, this is still a dynamite piece of music, which is completely universal. If you, however, do speak Polish, and even perhaps also love Tuwim, this is Heaven on Earth.
---