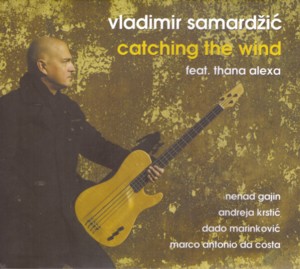 VLADIMIR SAMARDZIC ~ CATCHING THE WIND
SKC 105 (Barcode: 9788662850904) ~ SERBIA ~ Jazz-Rock Fusion
Recorded: 2019
- 2021
Released: 2022
---
This is an album by Serbian bass guitarist / composer Vladimir Samardzic

Find albums by this artist

, recorded with guitarist Nenad Gajin

Find albums by this artist

, drummer Dado Marinkovic

Find albums by this artist

, percussionist Andreja Krstic

Find albums by this artist

and Brazilian (resident in Austria) guitarist Marco Antonio da Costa

Find albums by this artist

. The album presents eleven original compositions, nine composed by the leader, one co-composed with da Costa and finally one by da Costa.

The music is all within the contemporary Fusion idiom, based on wonderful melodic themes and excellently played by the above team. Most of the music is performed by a guitar / bass / drums trio, except for two that are bass / percussion duos.

The album has a nice retro sound and feel, somewhat similar to early Fusion, which was still all about music, before it disintegrated into ego tripping. The four tracks with de Costa have a nice Brazilian ambience and rhythmic patterns, which are always welcome, and resides within the Jazz-World Fusion idiom, one even featuring some vocalese, typical of the genre. The other four tracks with Gajin are classic Fusion, with a Rocky beat, as the doctor prescribed.

The bass is prominently featured on the entire album, which is a showcase for the instrument, but manages to avid mindless doodling, with so many electric bassists display as leaders. Samardzic obviously is a superb player and knows how to respect his instrument. He is also an excellent composer, which the music on this album proves beyond any doubt.

Overall, this is an excellent contemporary Fusion album, which is a joy to listen to from start to finish, with excellent music and astounding musicianship, which proves that the genre could be kept alive if more musicians would just try harder. For bass and guitar enthusiasts this album is a true whiff of fresh air. Warmly recommended!
---