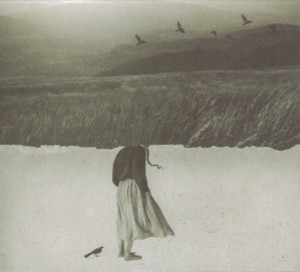 BASTARDA & SUTARI ~ TAMOJ
AUDIO CAVE 2022/008 (Barcode: 5908298549537) ~ POLAND ~ Jazz-World Fusion
Recorded: 2022
Released: 2022
---
A short while ago I had the immense pleasure to guest the Bastarda

Find albums by this artist

trio – clarinetist Pawel Szamburski

Find albums by this artist

, cellist Tomasz Pokrzywinski

Find albums by this artist

and contrabass clarinetist Michal Gorczynski

Find albums by this artist

– as part of my Singer Jazz Festival in Warsaw. Their phenomenal performance at the Norzyk Synagogue was, as expected, immensely successful, followed by a standing ovation, which reflects the incredible talent of these musicians and their unusual ability to reach audiences, despite their music being highly sophisticated and often quite complex.

This is already the sixth album by Bastarda, and their sixth release in a rapid succession of just six years. It is also their third subsequent collaboration project, which emphasizes their willingness to constantly expand their horizons into different musical territories. Following an adventure with Fado and Medieval Music, this time they cooperate with the female Sutari

Find albums by this artist

duo – Basia Songin

Find albums by this artist

and Kasia Kapela

Find albums by this artist

– both vocalists and instrumentalist, and together explore the traditional music from the eastern Polish regions bordering with Belarus and Lithuania.

The resulting music is, as usual, astounding in every respect. It reaches far beyond the folkloristic themes, on which it is based, and the sublime arrangements expand the overall sound into incredible vistas, completely unexpected and as expected (pun intended) breathtakingly penetrating. It seems that the instrumental contributions by Bastarda are somewhat in a background of the vocal parts, but in fact it is the collective effect of the vocals and instrumental improvisations, which create the powerful and effective totality, which benefits from both and is way beyond just the sum of its ingredients.

Overall, this is another masterpiece in Bastarda's recorded output, which puts them in a class of their own, not only on the Polish scene, but far beyond. The incredibly lucky combination of talent and the openness to music, in complete disregard of fads and fashions, marks them as an act worth following closely. God only knows what these guys are capable of on their next projects, and honestly I really don't care, as it is a sure bet the result will be outstanding. Thank you, my Friends, for the music!
---