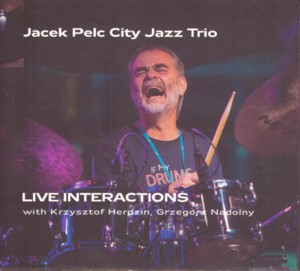 JACEK PELC CITY JAZZ TRIO ~ LIVE INTERACTIONS
JACEK PELC RECORDS 007 (Barcode: 5904013793605) ~ POLAND ~ Jazz
Recorded: 2011
Released: 2022
---
This is an archival live album by Polish Jazz drummer / composer / bandleader Jacek Pelc

Find albums by this artist

, recorded in a classic piano trio setting with pianist Krzysztof Herdzin

Find albums by this artist

and bassist Grzegorz Nadolny

Find albums by this artist

. The album presents nine tracks, eight of which are original compositions by Pelc and one is a standard.

The music is all mainstream oriented modern Jazz, beautifully melodic and well structured, and as expected superbly executed by these highly experienced musicians. Pelc manages to prove again that being a drummer is not in any conflict with being able to compose beautiful lyrical themes, full of Polish melancholy, which are memorable and highly aesthetic.

Herdzin, who appears relatively rarely within the Jazz idiom lately, shows that he was one of the most exciting Polish Jazz piano virtuosi, and his piano playing is truly refreshing herein. Hearing him on this album not only brings fond memories of his artistry, but raises hopes of his desire to return and take his rightful position on the Jazz scene, which he abducted in favor of other explorations.

Nadolny plays wonderfully as well, showing great taste and technique both on the upright and electric bass, always perfectly in tune and right on the beat, he provides the background layer to the music, which couldn't survive without it.

And last but not least, Pelc with his Masterly drumming technique and endless trickery, which never ceases to amaze, which rightfully award him the position at the very top of the Polish Jazz rhythm magicians guild.

Overall, this is a wonderful Jazz piano trio album, which should delight every fan of that particular niche, but to be honest it speaks to every Jazz lover on this planet, creating a lasting experience, which lingers in the back of the listener's mind long after the music is over. Absolutely marvelous and well done, my Friend!
---