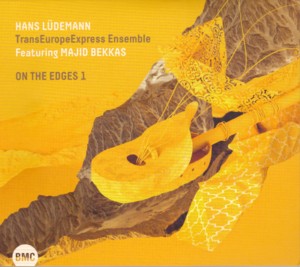 HANS LUDEMANN / TRANSEUROPEEXPRESS ENSEMBLE / MAJID BEKKAS ~ ON THE EDGES 1
BMC 292 (Barcode: 5998309302923) ~ GERMANY ~ Jazz-World Fusion
Recorded: 2019
Released: 2022
---
This is an album by the French-German octet called TransEuropeExpress Ensemble

Find albums by this artist

, led by pianist Hans Ludemann

Find albums by this artist

, which features the Moroccan musician / composer / singer / multi-instrumentalist Majid Bekkas

Find albums by this artist

. The album presents ten tracks, six composed by Ludemann, one by Bekkas, two co-composed by Bekkas and Ludemann and once by saxophonist Alexandra Grimal

Find albums by this artist

.

As the title suggests, this is the first of a series of recordings by the ensemble, which incorporate elements originating from outside, but bordering with the European cultural zone, this time from across the Mediterranean, the North African Gnawa tradition, which Master Bekkas impersonates with every aspect of his music making: vocals, oud, guembri or any other instrument he touches, as well as his compositions of course.

The music manages to amalgamate the European musical tradition with the West African musical tradition in a most natural way imaginable, using the freedom and open-mindedness of Jazz and improvisation as a common ground. The resulting music sounds completely intuitive and genuine, which of course is a great success of this project. Ludemann's compositions are all brilliant and the ensemble performs the music with finesse and gusto, which results in a wonderful aesthetic musical experience.

Bekkas finds a way to incorporate his instrumental parts into the ensemble performances not only on his compositions, but also on the compositions by Ludemann, which is hardly surprising considering his vast experience of playing with European musicians. His flexibility and personality make him always an ideal partner in such mutual adventures.

The album was released by the Hungarian BMC

Find albums on this label

Records, one of the most ambitious European Jazz / Improvised Music labels, which surely deserves a wider recognition among challenging music fans around the world with their solid catalogue build carefully over the years.

Overall, this is a brilliant example of Jazz-World Fusion, which respectfully combines seeming alien musical traditions into a new amalgam, which proves that music is completely borderless and finding the common roots is only up to the musicians. Wholeheartedly recommended.
---