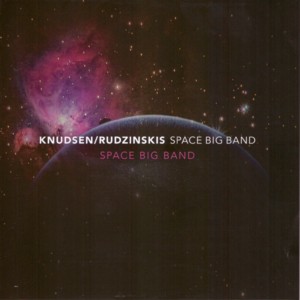 KNUDSEN / RUDZINSKIS SPACE BIG BAND ~ SPACE BIG BAND
CHALLENGE 71393 (Barcode: 608917139327) ~ DENMARK ~ Big Band Jazz
Recorded: 2020
Released: 2021
---
This is the debut album by the Berlin based Jazz Big Band called Space Big Band

Find albums by this artist

, co-led by Danish bassist / composer Kenneth Dahl Knudsen

Find albums by this artist

and Latvian saxophonist / composer Toms Rudzinskis

Find albums by this artist

. The band comprises of eighteen musicians from Eastern and Western Europe. The album presents ten tracks with original compositions, five each by both co-leaders.

The music is Modern European Mainstream Jazz, with melodic ties but a lot of freedom for the soloists and complex rhythmic meters, which creates a fascinating listening experience. The sound is very up-to-date, pretty far from the American Big Band tradition, with somewhat Fusiony orientation emphasized by the electric guitar soloing and dominating drumming, but the music keeps shifting constantly, changing its facets often dramatically.

The brass arrangements are pretty atypical, creating a very specific ambience, again far apart from the traditional Big Band approach, which makes listening to this album especially interesting, since nothing is predictable. The compositions offer a wide palette of moods and colors, all falling into a coherent continuum.

I have been following Knudsen since his arrival on the European Jazz scene and watching his development as a musician, composer and leader is an example of the incredible talents of the new generation of European Jazz musicians and a great hope for the future of Jazz.

Overall this is a very interesting Big Band Jazz recording, quite different from what one expects to happen within that idiom, with examples of new approach to tonality, arrangement and composition. It might require more than one listening session to get into this music, but patience will be rewarded by deep aesthetic satisfaction.
---