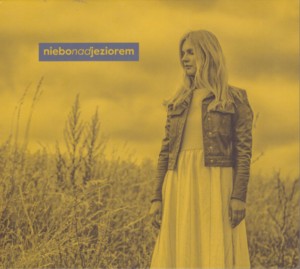 EMILIA PAWLOWSKA ~ NIEBO NAD JEZIOREM
SOLITON 1111 (Barcode: 5903684231119) ~ POLAND ~ Sung Poetry
Recorded: 2019
- 2021
Released: 2021
---
Although not her debut release, this is the debut album by Polish singer / songwriter Emilia Pawlowska

Find albums by this artist

, which offers her original material. It presents eleven songs, all co-composed by Pawlowska with keyboardist Adam Lemanczyk

Find albums by this artist

, who was also in charge of all the arrangements. Veteran Jazz trumpeter Marcin Gawdzis

Find albums by this artist

plays on five tracks. The lyrics to all the songs were written by two Polish poetesses Anna Szuca

Find albums by this artist

and Alina Rzepecka

Find albums by this artist

.

Not surprisingly, the album sits firmly within the Sung Poetry idiom, which is sadly less popular these days, but used to be Poland's musical pride for many years in the good old times. The music fits the lyrics beautifully and the arrangements present a diverse kaleidoscope of influences, with a distinct Jazz subtext, emphasized by the trumpet solos, but also some shades of World Music and Polish Folklore. Each and every song is quite different from all the others, but at the same time the album offers a remarkable musical and conceptual coherence.

Obviously Sung Poetry is also about selecting the poetry carefully and delivering it properly, which in this case was certainly appropriately done. It seems that Polish poetry is largely in the hands and minds of female poetesses these days, many of which I personally admire, and the female sensitivity of selecting the right words and expressing strong emotions without necessarily using "strong" bombastic vocabulary seems to be their main strength. Pawlowska certainly treats the poetry with respect, eschewing theatrics and pompous trickery, which dominates contemporary popular music. Her delicate, often seemingly aloof vocal delivery, is a perfect way to transfer the depth of the poetic charm straight into the listener's heart. Her vocals are recorded without artificial electronic enhancement, which allows the natural warmth of her voice to work the magic.

Obviously Sung Poetry, however dressed up musically, requires careful listening and I must admit that the album sounds quite differently each time I listened to it, which is part of its appeal. The superb instrumental delivery by all the participants and the concise / precise soli ornament the songs beautifully. The sound quality, production and arrangements are all highly professional and are a perfect example of how little details and touches can be more important that a dreadful wall of sound, which characterizes most of what we can hear on albums recorded today. Especially impressive is the skillful use of electronic effects and synthesizers, which when used sparingly can be highly effective.

Overall this is a very impressive album, carefully planned and beautifully executed, which pays tribute to good taste, cultural values and artistic desires, all at the same time. It is definitely outstanding on the contemporary Polish music scene and is worthy of praise and recognition, although being an old cynic, it is also one of those rare albums that are too good to be successful. Nevertheless, the old romantic in me hopes it will get to as many listeners as it deserves. Women power rules!
---