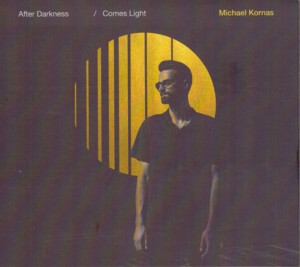 MICHAEL KORNAS ~ AFTER DARKNESS / COMES LIGHT
SOLITON 1096 (Barcode: 5903684230969) ~ GERMANY ~ Jazz
Recorded: 2020
Released: 2021
---
This is the debut album by young German (resident in Poland) pianist / composer Michael Kornas

Find albums by this artist

, recorded in a classic piano trio setting with Polish rhythm section comprising of bassist Kamila Drabek

Find albums by this artist

and drummer Bartlomiej Dybel

Find albums by this artist

. The album presents seven original compositions, assumably by Kornas (no info on the artwork), lasting only slightly over half an hour, which is a bit short for a full album, especially a debut.

The music is pretty straightforward mainstream Jazz, based on rather simple melodic themes, which serve as basis for the trio's performances. The music is mostly lethargic and develops sluggishly, which can be trying for the listener. Obviously these are early days for Kornas as a composer and his ideas need polishing and stylistic diversity, which hopefully will come with time.

The performances are fair, with Kornas concentrating on playing the chords rather than improvising extensively. The rhythm section supports the leader amicably, obviously being more experienced, trying not to disturb the flow of the music. Drabek takes a few bass soli, more than customary for a piano trio album, which are ornamenting the proceedings a bit.

Overall this album is more of a "teaser" than a full-blown offering, and should be probably treated as such. Perhaps recorded a bit to early the music might have been polished with more live performances, but obviously the pandemic prevented that. All the best in the future!
---