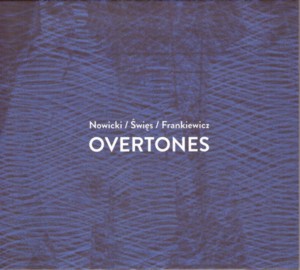 NOWICKI / SWIES / FRANKIEWICZ ~ OVERTONES
AUDIO CAVE 2021/003 (Barcode: 5908298549230) ~ POLAND ~ Jazz
Recorded: 2020
Released: 2021
---
This is the second album by the Polish Jazz trio comprising of saxophonist Radek Nowicki

Find albums by this artist

, bassist Andrzej Swies

Find albums by this artist

and drummer Sebastian Frankiewicz

Find albums by this artist

. The album presents nine original compositions, five by Nowicki, three by Swies and one by Frankiewicz.

Following the debut recorded and released almost a decade ago, this release offers a much more coherent and mature piece of music, based on excellent compositions and outstanding performances by the trio members. The music is mostly contemplative and develops slowly, but is wonderfully expressive and offers a most satisfying listening experience, which is a vast improvement in comparison to the earlier effort.

Although the saxophone trio is an extremely difficult vehicle to steer, this trio works just perfectly, offering a perfect balance between the three musicians. It is nothing like a lead instrument supported by a rhythm section, but from the very onset it becomes completely clear that they work in unison and shoulder to shoulder. As a result, the saxophone, bass and drums are fully present for the entire duration, recorded on the same level and offer an organic trio sound, which is very rarely achieved by other similar outfits.

It is usually expected from the saxophone to set the tone, but it is impossible to decide who is leading the trio at any given moment, while the music lasts. Swies paves the path with his deep and rounded pulsations and his performances here are absolutely stunning. Frankiewicz does not stay behind, driving the music lice a hurricane during the crescendo moments and pushing it gently during the delicate passages. Nowicki states the melodies gently and improvises with conviction and obvious Masterly touch.

Overall this is a great album from start to finish, with no dull moments in between, superbly played by three Masters of the trade, who push their abilities to the max. The music manages to create a unique sonic climate, and the no bullshit playing is convincing and strikes right where it is most effective. This is Polish / European Jazz at its best - Kudos my friends! Wholeheartedly recommended!
---