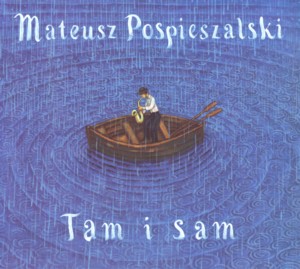 MATEUSZ POSPIESZALSKI ~ TAM I SAM
POLSKI RAP 04 (Barcode: 5902860144779) ~ POLAND ~ Jazz
Recorded: 2020
Released: 2020
---
This is a solo (au naturel saxophone and Nature) album by veteran Polish Jazz saxophonist / flautist / composer Mateusz Pospieszalski

Find albums by this artist

, recorded outdoors in several locations. The album presents nine (one appearing twice) original compositions / improvisations, all by Pospieszalski, featuring the natural ambience and Nature sounds of the beautiful Polish landscape during the late autumn of the pandemic year and according to the social distancing protocol.

Pospieszalski belongs to the highly respected Polish Jazz oppositionists, beautiful freaks and proud Avant-Gardists, who over time created some of the most interesting music on the local scene with ensembles like Free Cooperation

Find albums by this artist

, Tie Break

Find albums by this artist

, Graal

Find albums by this artist

, Voo Voo

Find albums by this artist

and others, as well as cinematic and theatre music, a truly vast scope of creativity.

This album presents Pospieszalski at the most intimate setting, not only completely solo, but also without the comfort and protection of a studio environment or concert audience. This is perhaps the reason the music sounds so brutally honest and penetrating, devoid of any mannerism or showmanship.

The music is deeply lyrical, almost gloomy and desperate, perhaps a reflection of the atmosphere influenced by the pandemic, which took from us the most basic need of human contact. I cannot, of course, speak for the creator of this music, only as a listener, but it seems that the music carries universal human emotions, in this case of sadness and grief. It is a great artistry to be able to express grief through music, as heartbreakingly and boldly as present on this album. Perhaps one day in the future, this album will become an aural testimony of what 2020 was all about, like Allen Ginsberg

Find albums by this artist

's "Howl" remains a testimony of the Beat Generation.

The is no doubt that this album is a monumental achievement in the already impressive legacy of Pospieszalski's work. Probably not intended as such, as in most cases of important achievements, this intimate statement shouts more loudly than gigantic productions, which often turn to be hollow.

My deepest respect and thanks for this gift of music are accompanied by a wholehearted recommendation to all music lovers to get a copy of this album, since there are but a few singular statements of such emotional authority out there as this one!
---