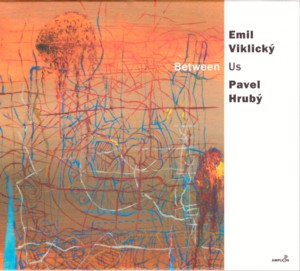 EMIL VIKLICKY / PAVEL HRUBY ~ BETWEEN US
AMPLION 202001 (Barcode: 8594179222018) ~ CZECH REPUBLIC ~ Jazz
Recorded: 2020
Released: 2020
---
This is a wonderful album by a duo of Czech Jazz musicians: veteran pianist / composer (and a friend since many years) Emil Viklicky

Find albums by this artist

and saxophonist / clarinetist Pavel Hruby

Find albums by this artist

, who plays solely the bass clarinet this time. The album presents twelve tracks, eleven of which are original compositions (five by Viklicky, three by Hruby and three co-composed by them) and one is a standard.

Although separated by a generation, Viklicky (born 1948) and Hruby (born 1970) fit together perfectly, playing a series of delicate, almost romantic and very personal pieces, with the rather unusual piano / bass clarinet ambience creating a magic effect. The mesmerizing music penetrated directly the listener's heart demanding unconditional surrender.

Although most of the music is very melodic, some of the tracks explore more improvised approach, which is much more adventurous. But the overall atmosphere remains closely related to melodic Jazz, in the best meaning of the expression. Although naturally Hruby is heard up front more often than Viklicky, the duets are perfectly balanced and Viklicky's role as accompanist is as much important and significant as Hruby's soloing. Personally I hear a lot of Hassidic / Jewish influences in Hruby's playing on this album, perhaps subconsciously invoked by the clarinet sound and modulations, which are absolutely delightful. Viklicky soloes rather sparingly here, but his superb touch and feel are easily recognizable by his followers and he is a Master in total control of his instrument.

Overall this album is a proud addition to the European "Art of the Duo" idiom, presenting some highly aesthetic Jazz music, which is penetrating and keeps the listener on edge for the entire duration. Both accessible and highly artistic at the same time, this is an excellent specimen of the Czech Jazz scene, which is highly recommended and worth following. Kudos are certainly due to both musicians and it is heartwarming to see Emil so active and productive these days. Combined with a superb sound quality and separation this album offers, which allows every little nuance to be audible, it is a wholeheartedly recommended gem!
---