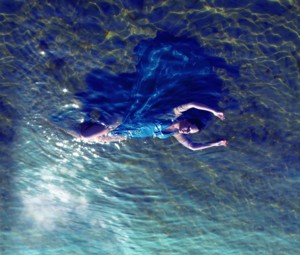 PAULINA PORSZKE ENSEMBLE ~ ADDAPTACJA
NOT ON LABEL ~ POLAND ~ Jazz
Recorded: 2020
Released: 2020
---
This is the debut album by young Polish Jazz keyboardist / vocalist / composer Paulina Porszke

Find albums by this artist

recorded with a seven piece ensemble with second keyboardist Jan Jarecki

Find albums by this artist

, saxophonists Aleksander Kaminski

Find albums by this artist

and Michal Jan Ciesielski

Find albums by this artist

, cellist Weronika Kulpa

Find albums by this artist

, bassist Filip Arasimowicz

Find albums by this artist

and drummer Maksymilian Kreft

Find albums by this artist

. Except for the two saxophonists and the bassist, the rest of the players have no previous recording experience as far as I know. The album presents five original compositions, one in two parts, all composed by Porszke.

From the very onset of the music it becomes immediately apparent that this is a completely original and idiosyncratic piece of music, unlike almost everything that the Polish Jazz scene produced in 2020. Although obviously Jazz oriented, the music is all over the place (in the best meaning of the aphorism), touching on contemporary Classical Music, Free Improvisation, solid melodic themes and at times heartbreaking expressionism and even Romanticism. Such diversity might be a sign of a lack of focus and coherency, but in this case the opposite is true, since although the music is based on cross-genre pollination, it has unifying determination and above all Artistic / aesthetic depth, rarely achievable by such young musicians as Porszke.

The complex and challenging music is spectacularly executed by the ensemble. Although there are many inspiring individual statements herein, it is the ensemble performance that is the true forte of this recording. The individual soli are usually short and concise, obviously purposely so, as the leader / composer wishes to present a specific collective ensemble sound and ambience rather than feature the individual statements. Porszke´s use of wordless vocalese deserves a special mention, and is another refreshing facet of the music.

It is great to see that some of the representatives of the new generation of European Jazz realize that Jazz music is no longer a simplistic couple of chords theme, 4/4 rhythmic structure and "let´s go" approach. Jazz is becoming more and more Artistic, sophisticated, expressive, intellectual, emotional and above all personal, similar to what one can hear on this album. This music is obviously deeply personal and Porszke uses it as a vehicle to express her innermost experiences, exactly as other true Artists do regardless of what Art Form they utilize to express themselves.

It is almost "frightening" to think that if this is Porszke´s debut album, what she will come up with next. Personally I can´t wait to hear it, but on second thought just take your time young Lady…I keep my fingers crossed!
---