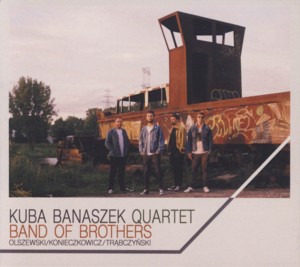 KUBA BANASZEK ~ BAND OF BROTHERS
SOLITON 0692 (Barcode: 5901571096926) ~ POLAND ~ Jazz
Recorded: 2019
Released: 2020
---
This is the debut album by young Polish Jazz pianist / composer Kuba Banaszek

Find albums by this artist

recorded in a classic quartet setting with saxophonist Marcin Konieczkowicz

Find albums by this artist

, bassist Tymon Trabczynski

Find albums by this artist

and drummer Maksymilian Olszewski

Find albums by this artist

– all three already with some recording experience on the young Polish Jazz scene (the lineup was sadly omitted from the album´s artwork). The album presents eight compositions, seven of which are by Banaszek and one is a standard.

The music is excellent modern Jazz, with remarkable original compositions, full of typical Polish melancholy and lyricism, which make Polish Jazz what it is, but also clever usage of unusual time signatures and intrinsic cool, which sets them immediately apart from most of the competition. Even the unusual treatment of the standard is outstanding. The performances do not stay behind and these young Lions show superb skills despite their young age and relative lack of experience.

Banaszek´s compositions are very open and allow unlimited freedom of expression both for the leader and the entire crew. Piano solos are the obvious centerpiece of the album, but the saxophone parts are no less impressive and the rhythm section is outstanding, playing the difficult odd time signatures, which seems to be the composer´s natural habitat, with ease and elegance. Trabczynski offers some really impressive bass support and Olszewski, who stays mostly in the shadows, shows some sublime drumming minimalism, which is way more effective than obsessive banging.

Overall this is definitely one of the most impressive Polish Jazz debuts for 2020, especially since it is able to take the classic Jazz quartet so far away from its much ragged banality. It has been a while since I have been so deeply impressed with a piano quartet recording, simply playing Jazz – no shticks and no tricks – just pure music. This album certainly immediately makes the listener want to hear more, which hopefully won´t have to wait long to take place. This is brilliant stuff and I am grateful to its makers for keeping my desire for good music to prevail, as it often gets pretty desperate under the barrage of mundane bullshit. Respect!
---