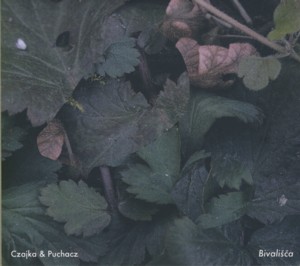 CZAJKA & PUCHACZ ~ BIVALISCA
KLOPOTEC 111 ~ SLOVENIA ~ Free Jazz / Improvised Music
Recorded: 2019
Released: 2020
---
This is the debut album by the duo Czajka & Puchacz

Find albums by this artist

, which comprises of Slovenian pianist / composer Kaja Draksler

Find albums by this artist

and Polish drummer / composer Szymon Gasiorek

Find albums by this artist

. The album presents eight original compositions, all co-credited to both members of the duo. The first two tracks were recorded live and the rest are studio recordings.

Gasiorek has been one of the most interesting Avant-Garde figures on the Polish / European scene in the last half decade, participating in several different projects and playing very diverse music. This duo with Draksler, who resides in several locations in Europe and is a highly active Improvising Music Artist, shows yet another aspect of Gasiorek´s multifaceted talents, this time dealing with minimalist (to the extreme) music, which is mostly based on delicate percussive sounds and a small amount of piano notes and other related noises, human voices and electronics. There is hardly, if any, music as most people would define it and the long series of detached percussive sounds can become weary after a while. This kind of sound collages have been around for many years, so this album is not even innovative within the Improvised Music / Avant-Garde Music idioms.

As much as I love Gasiorek´s earlier efforts, this album if just a strange oddity, which I find almost no connection to, neither emotional nor intellectual, in spite of the fact that I consider myself an open-minded listener with vast experience. It might have been fun to record but this album bears no musical message as far as I am concerned. But that is just me of course.
---