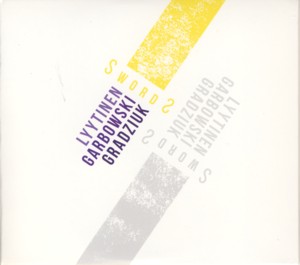 LYYTINEN / GARBOWSKI / GRADZIUK ~ SWORDS
FSR 2020/19 (Barcode: 5905279364776) ~ FINLAND ~ Free Jazz / Improvised Music
Recorded: 2019
Released: 2020
---
This is the debut album by the Improvising Music trio comprising of Finnish saxophonist Pauli Lyytinen

Find albums by this artist

and Polish bassist Maciej Garbowski

Find albums by this artist

and drummer Krzysztof Gradziuk

Find albums by this artist

. The 2CD album was recorded live at one session and presents eleven improvisations (one repeated twice) credited to all three participants.

For Garbowski and Gradziuk this is not the first time they cooperate with a Finnish partner, as documented by the recordings they made with Finnish trumpeter Verneri Pohjola

Find albums by this artist

, which of course could not make happier, since my love of Finnish Jazz is second only to that of Polish Jazz ;) As the music included on this album shows, the cooperation proved to be as fruitful as one might wish for.

Lyytinen is a highly experienced improvising musician and a prolific recording Artist, with a most impressive recorded legacy despite his relative young age (born in 1983), which combines his Finnish influences with exposure to World culture and music. Some of his recordings also involve the a.m. Verneri Pohjola, which connects the dots as far as forming of the trio on this album is concerned.

Despite the spontaneous improvisation process which produced this music, the result is highly melodic, perhaps not in the traditional meaning of the idiom, but definitely very communicative and inviting, which makes listening to this music a truly pleasurable experience, without compromising the aesthetic depth and artistry involved. The rapport between the musicians is obvious and completely honest, which of course is fully reflected in the music itself, radiating relaxed creative forces rather than tension.

For listeners familiar with the work of Garbowski and Gradziuk this album is a natural extension of their earlier recorded legacy and a most welcome addition. Each meeting with brotherly musical souls is a tremendous experience and it is lucky for everybody when such meetings are also documented and available for posterity.

It is also worth mentioning the incredible sound quality this album offers, thanks to Grabowski´s recording at the tiny Institute of Music Performance in Katowice, which I know personally of course, and the incredible mix and mastering by Jan Smoczynski

Find albums by this artist

at Studio Tokarnia – a magnificent aural experience in addition to the spiritual musical experience, i.e. the best of the two worlds!
---