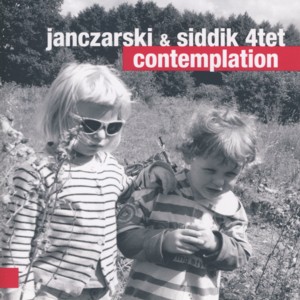 JANCZARSKI & SIDDIK 4TET ~ CONTEMPLATIONS
FOR TUNE 0147 (Barcode: 5906395808625) ~ POLAND ~ Jazz
Recorded: 2020
Released: 2020
---
This is a live recording at the Warsaw 12 on 14 Jazz Club by the quartet co-led by Polish Jazz saxophonist Borys Janczarski

Find albums by this artist

and veteran American trumpeter Rasul Siddik

Find albums by this artist

, with Polish bassist Michal Jaros

Find albums by this artist

and veteran drummer Kazimierz Jonkisz

Find albums by this artist

. Together they perform seven pieces, six of which are Jazz standards and one is an original composition by Siddik.

The album offers a warm and authentic club atmosphere but the music is all strictly within American mainstream boundaries and is completely predictable. This is a third recorded collaboration between Janczarski and Siddik released on the For Tune label, all of which follow the same well established pattern of Bebop oriented music making, which has hardly changed in the last 70 years or so.

As for the performances, despite the fact that Siddik has a well earned reputation of playing with some very important American Jazz names in the past, his playing here (and on the two other a.m. albums) is very shaky and unimpressive, Janczarski is much more vigorous but not really notable and only the excellent rhythm section is up for the job, especially Jaros whose bass parts are the absolute highlights of this album.

Overall this music might have been nice to listen to at the club while enjoying a drink, but has no lasting value beyond that. At least the music is well recorded by Tomasz Pierchala

Find albums by this artist

, the club owner and persistent Warsaw Jazz scene activist.
---