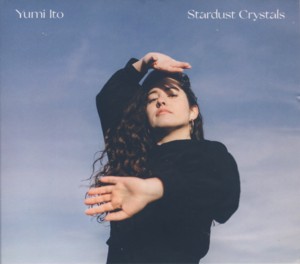 YUMI ITO ~ STARDUST CRYSTALS
UNIT 4946 (Barcode: 7640114799464) ~ POLAND ~ Jazz-Classical Fusion
Recorded: 2018
Released: 2020
---
This is an album by Polish (Mother) – Japanese (Father) (resident in Switzerland) vocalist / composer / lyricist Yumi Ito

Find albums by this artist

, recorded with an international eleven piece band, which also includes Polish (resident in Germany) vibraphonist Izabella Effenberg

Find albums by this artist

and bassist Jakub Dworak

Find albums by this artist

. The album presents eight original pieces, all composed and arranged by Ito, six of which feature her lyrics (in English) and two are instrumentals.

The music is multi-layered and utilizes complex instrumental arrangements, which from the very onset of the album clearly state that this is a serious and extremely elaborate piece of music. The overall sound is strongly influenced by contemporary Chamber Music, featuring a unique lineup of vocals, string and woodwind trios, harp, vibraphone and a bass / drums rhythm section, which only very rarely can be found within the Jazz idiom. Ito brilliantly utilizes the many hidden possibilities of such a large ensemble to beautifully ornament and enhance her vocal parts, keeping the instrumental parts somewhat in the background behind her vocals and yet fully audible for the listener to enjoy their wonderful support.

Ito presents an entire spectrum of vocal abilities, which includes recitation, singing lyrics, improvising using vocalese, etc. all tastefully and masterly executed with great respect to the entire framework of her compositions and the vocal tradition, which is truly cross-genre, but always perfectly aesthetically rounded.

The instrumental work by the ensemble members is all superb, and although there is relatively little soloing per se, there are multiple mini-solo parts of delicate nature. But more importantly the ensemble work, which is by all means demanding, is perfectly executed, full of mutual respect and fragile interplays, including the rhythm section wonderfully chronometric, but highly imaginative support.

Overall this is a superbly composed and executed piece of Artistic music, which is a true joy to listen to, a uniquely genuine and mysterious kaleidoscope of sounds and ideas that is mind-boggling and utterly relaxing at the same time. This is definitely one of the most interesting albums that arrived on my desk in 2020. You certainly made good young Lady! Hats off!
---