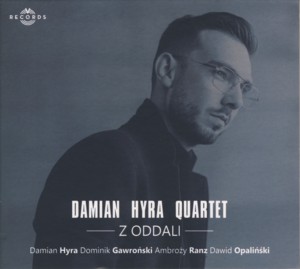 DAMIAN HYRA ~ Z ODDALI
V 018 (Barcode: 5903111377205) ~ POLAND ~ Jazz
Recorded: 2020
Released: 2020
---
This is the debut album by Polish Jazz vocalist / guitarist Damian Hyra

Find albums by this artist

recorded in a quartet setting with trumpeter Dominik Gawronski

Find albums by this artist

, bassist Ambrozy Ranz

Find albums by this artist

and drummer Dawid Opalinski

Find albums by this artist

. The album presents nine original songs composed and featuring lyrics (eight in Polish and one in English) by Hyra.

The music is all melodic mainstream Jazz, based on solid themes, easy on the ear and definitely on the easier side of the Jazz spectrum, but highly entertaining, briskly swinging and offering a good time listening experience to the listeners.

The instrumental lineup is unusual, with the trumpet / flugelhorn playing most of the leads and soli and the guitar playing the "second fiddle", but also soloing on most of the tracks, utilizing a somewhat Fusion oriented sound and attitude while soloing. The rhythm section is highly supportive and keeps the time perfectly, but stays mostly on the back plane.

Hyra´s vocals are definitely an acquired taste and take a while to get used to, but after a while become enjoyable, despite their atypical sound and articulation. The one track with the English lyrics is a perfect example of what should be avoided by all possible means.

Overall this is an entertaining Jazzy album, which offers some nice songs and a lot of good time, but stays away from exploring uncharted territory. This is definitely not a typical Polish Jazz album, by any respect, showing another facet of the local scene.
---