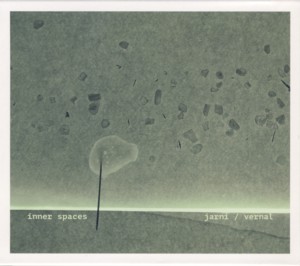 INNER SPACES ~ JARNI / VERNAL
AMPLION 172001 (Barcode: 8594179225576) ~ CZECH REPUBLIC ~ Jazz
Recorded: 2016
Released: 2017
---
This is the third album by Czech / Polish quintet Inner Spaces

Find albums by this artist

which comprises of Czech trumpeter Stepanka Balcarova

Find albums by this artist

, saxophonist Lubos Soukup

Find albums by this artist

and pianist Vit Kristan

Find albums by this artist

and Polish bassist Max Mucha

Find albums by this artist

and drummer Grzegorz Maslowski

Find albums by this artist

. The album presents seven original compositions, three composed by Balcarova and two each by Soukup and Kristan. The music was recorded live during a concert at the Czech Radio.

The music is typical modern Eastern European Jazz, with excellent compositions full of melancholy and lyricism and a rather foggy atmosphere of contemplation and anticipation, personally for me evoking fond memories of Czechoslovak New Wave cinema, with the film noir influences and characteristic black and white imagery, also present in Polish cinema at the time. I don´t know why, but this music sounds to me like something that might have been recorded in the 1960s rather than 2010s, which is of course meant as a compliment.

All the members of the quintet are seasoned players with considerable recording legacy behind them, and their performances on this album attest to their technical proficiency and artistic depth. The music is performed with a certain modesty and reserve, with the soloing being far from flashy displays of abilities and more a matter of elegance and good taste. Considering the fact that this music was recorded live, the final result is truly impressive.

Although this music seems perhaps not very innovative or far reaching, it manages ideally to preserve the qualities of the Eastern European Jazz tradition, and by creating the retro atmosphere, also pay tribute to the decades during which Jazz functioned under an oppressive regime where it managed not only to prevail but also break the glass ceiling (or the Iron Curtain).

As a result this album is not only a superb piece of Jazz music, but also a time of reflection and remembrance of an era, that happened before any of these wonderful musicians were born, but which they inherited in their cultural genetic code. God bless for the music and for invoking the memories!
---