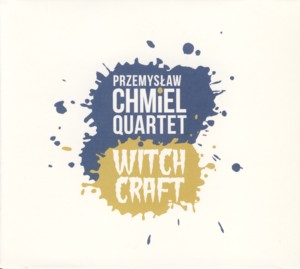 PRZEMYSLAW CHMIEL ~ WITCHCRAFT
FSR 2020/16 (Barcode: 5905279364745) ~ POLAND ~ Jazz
Recorded: 2019
Released: 2020
---
This is the debut album by Polish Jazz saxophonist / composer Przemyslaw Chmiel

Find albums by this artist

, recorded in a quartet format with pianist Mateusz Gramburg

Find albums by this artist

, bassist Piotr Narajowski

Find albums by this artist

and drummer Michal Szeligowski

Find albums by this artist

. The album presents eight original compositions, all by Chmiel.

The music is modern Jazz, very open and yet firmly based on melodic themes, which are clearly stated and returned to throughout each of the tracks. The music is well behaved despite being highly spirited, often pretty minimalist and charmingly hesitant, creating a feeling of anticipation and searching. Each of the tunes offers a process of dynamic development, changing in intensity and volume, sometimes more than once within one tune, which makes things certainly interesting and blissfully different. The most interesting facet of the music is the fact that it certainly does not sound like typical Polish Jazz, successfully avoiding the melancholic / sentimental traps, but also not succumbing to the dreaded American Jazz derivatives, which in itself is a major success.

The album is dominated by the performances by the leader, which is hardly surprising under the circumstances, but all the members of the quartet get ample opportunity to show their chops. Chmiel´s youthful energy and courage is immediately obvious and his improvisational skills shine throughout the album´s duration. Perhaps not yet fully achieving a personal / identifiable voice, he is definitely a highly interesting and already unique player, with considerable potential.

Gramburg manages also to show some highly unusual approach and his contributions add a massive spicing to the proceedings, which would have probably been much less successful without him. His wonderful sensitivity and ability to play around with the dynamics and intensity of his touches on the keyboards make me immediately want to hear more of his playing, hopefully soon. Narajowski, who is an excellent bassist and a pillar of stability and precision, is in charge of the quartet´s "swinging" stability. Szeligowski plays over zealously at some points, which might have been corrected by lowering the drums in the mix, but overall does a splendid job and shows that drums can be as fascinating as any other instrument.

Considering that these are young and relatively little experienced players, the fact that they manage to create such a sophisticated and complex music together is awe inspiring. Kudos to the FSR

Find albums on this label

label, which usually releases live recordings by much more prominent names, for issuing this debut album, which of course is well deserved. The recording quality of the music could have been better, but all things considered this is surely one of the most interesting Polish Jazz debut albums released in 2020 and a nice whiff of fresh air. Well done!
---