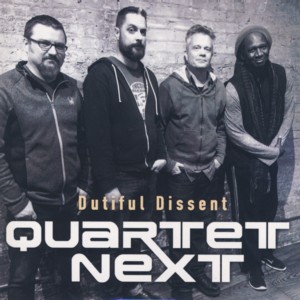 QUARTET NEXT ~ DUTIFUL DISSENT
LIZARD BREATH (Barcode: 755491150245) ~ USA ~ Free Jazz / Improvised Music
Recorded: 2018
Released: 2019
---
This is an album by the American ensemble called Quartet Next

Find albums by this artist

, led by guitarist / composer Dan Phillips

Find albums by this artist

and including saxophonist Dave Rempis

Find albums by this artist

, legendary drummer Hamid Drake

Find albums by this artist

and Polish (resident in the US) bassist Krzysztof Pabian

Find albums by this artist

. The album presents eight original pieces, seven composed by Phillips and one co-credited to all four members of the quartet.

Philips records prolifically in the last few years with his trio, quartet and the Chicago Edge Ensemble

Find albums by this artist

, all of which include also Pabian on bass. Drake is also a member of Chicago Edge Ensemble, which already recorded a couple of albums. His music is mostly within the Free Jazz / Improvised Music idiom, although strong Fusion elements are also present.

The music on this album is also a mixture of Free Jazz and Fusion riffs, which serve as breaks between the lengthy improvised passages. Despite the seemingly total freedom, the improvisations fall exactly within the tonal structures defined by the compositions.

Rempis, a well respected member of the Chicago Jazz / Improvising Music scene, is a significant addition of fresh energy and variety and his playing expands the music into uncharted territory, taking the focus away from the guitar, which balances the overall sound of the quartet. His playing is a wonderful example of coherence and inner calmness, which keep the music well organized, but still open and far reaching.

Phillips plays superbly, as usual, with traces of early Fusion but very open to exploring new ideas, sounds and techniques. On this album his playing is less dominant, mostly due to the space he allows for Rempis, and their dialogues are absolutely fascinating.

Pabian and Drake provide the quartet with an excellent basis, always precisely on time and highly imaginative. Their work during the many relaxed / quiet moments on this album is truly superb.

Overall this is a beautiful piece of music, relaxed and contemplative, which although firmly belonging to the Improvising Music idiom, is one of the most gentle, introspect and delicate manifestations of that genre. In many respects this is, for me, the most perfect album Phillips created so far and listening to this music is nothing short of pleasure incarnate. Kudos indeed to you, sir!
---