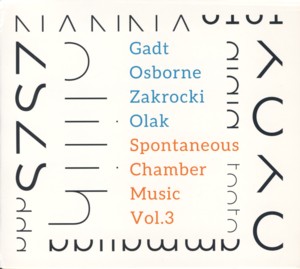 GADT / OSBORNE / ZAKROCKI / OLAK ~ SPONTANEOUS CHAMBER MUSIC VOL.3
FSR 2020/17 (Barcode: 5905279364752) ~ POLAND ~ Free Jazz / Improvised Music
Recorded: 2018
Released: 2020
---
This is the third album in the "Spontaneous Chamber Music" series, created by the Polish improvising duo comprising of violinist Patryk Zakrocki

Find albums by this artist

and guitarist Marcin Olak

Find albums by this artist

, this time expanded to a quartet with participation of Polish vocalist Anna Gadt

Find albums by this artist

and Luxembourgian cellist Annemie Osborne

Find albums by this artist

. The album presents fourteen relatively short spontaneous performances, recorded in a studio, which are assumingly credited to the participating musicians.

Although continuing the ideas and modus operandi behind the two previous albums, the music presented here is even more "chamber" than before, in the "intimate" meaning of the chamber idiom. The presence of the two female musicians must have deeply influenced the proceedings, which is hardly surprising after all.

Gadt treats her voice as an instrument, which she uses skillfully both to improvise in tandem with the others and to create a background tonal layer behind the others while they improvise. Her brilliant ideas and technical abilities easily place her on top of the list of Polish female improvising vocalists. Considering the fact that she in parallel to her performing career also teaches vocals, the next generation of Polish Jazz vocalist is certainly in good hands. She is the first Polish vocalist to take Polish Jazz / Improvised Music vocals a significant step forward for the first time in decades. Her cooperation with Olak can be heard on the wonderful album "Gombrowicz

Find albums with this title

" they recorded as a duo and Osborne appeared as guest on the recording of her beautiful solo album "Mysterium Lunae

Find albums with this title

".

Although Gadt´s contributions on this album are the most striking, all four musicians contributed wonderfully to its creation. Olak plays some superb guitar lines, Zakrocki adds atmospheric viola choruses and Osborne weaves complex cello structures, all of which combined with Gadt´s vocals create some of the finest improvising music I came across lately, which is perhaps also accessible to relatively wider audiences than such music usually is able to attract, due to the highly melodic approach used by the musicians.

Overall this is a splendid album, which proves that Improvised Music can by way more than just an expression of musical freedom and cooperation but also an opportunity to innovate and produce music that is able to reach audience beyond the close circle of sympathizers, which sadly is the case in most Improvised Music recordings. For enthusiasts if Avant-Garde vocals this album is an absolute must.
---