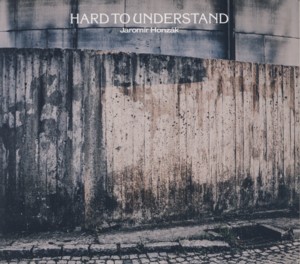 JAROMIR HONZAK ~ HARD TO UNDERSTAND
ANIMAL MUSIC 085 (Barcode: 8594155998715) ~ CZECH REPUBLIC ~ Jazz
Recorded: 2019
Released: 2019
---
This is the tenth album as a leader by Czech Jazz bassist / composer Jaromir Honzak

Find albums by this artist

recorded by an all-Czech quintet comprising of some of the top Jazz players in the country: guitarist David Doruzka

Find albums by this artist

, clarinetist / saxophonist Lubos Soukup

Find albums by this artist

, keyboardist Vit Kristan

Find albums by this artist

and drummer Martin Novak

Find albums by this artist

. The album presents seven original compositions by Honzak and a couple of adaptations of a medieval theme. The music was splendidly recorded at the SONO Records studio and engineered by Milan Cimfe

Find albums by this artist

, offering a spectacular sound quality.

Listeners familiar with Honzak´s numerous recordings should be able to immediately recognize the two idiosyncratic qualities that are eminently present in his music: first and foremost the quality and depth of his compositions and then his unique way of playing the bass, both acoustic and electric. These qualities have ensured a certain seal of quality present in all his recordings in the last quarter of a Century, which not surprisingly has steadily strengthened over time.

The sonority of the music and its somewhat mythical atmosphere is deeply European in nature, and offers a sublime amalgam of European music, which could be considered as Classical or folkloristic in its nature, with the Jazz idiom. It is hard to distinguish how much if this aesthetics is created subconsciously and how much is cleverly conceived, but regardless of the thought processes behind it, the result is simply overwhelming.

This music could have never happened the way it does, touching on every string of the listener´s musical consciousness, if not the formidable team of musicians performing it. The strangely wonderful harmony achieved by Doruzka, Soukup and Kristan, which mixes acoustic and electric sounds into new sound vistas one could never imagine possible, is the heart of the magic that happens on this album. The use of the electronics by Kristan is simply masterly and his way of balancing the quantity of synthesized sounds with the acoustic ones is brilliant. Honzak is, as always, the spine of the entire complex structures created by the team and Novak keeps the time code wonderfully present, without being obtrusive. All these musicians are great masters of their relative instruments, which combined with their impeccable taste and talent results in music that is pure nectar to the ears.

This album is a remarkable piece of music, which perhaps might demand certain intellectual as well as emotional involvement form the listener in order to be able to comprehend its depth and aesthetic beauty. Repeated listening sessions are highly recommended, since peeling layer after layer from this strange fruit is a delightful experience; "hard to understand"? not really if you approach this music with the same amount of love it was created with. Thank you Jaromir and co. for this beautiful gift of music!
---