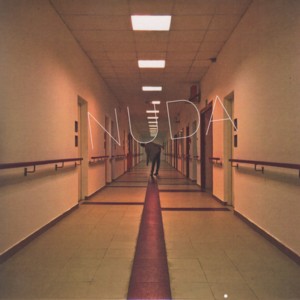 NUDA ~ NUDA
NOT ON LABEL ~ POLAND ~ Avant-Garde Jazz
Recorded: 2020
Released: 2020
---
This is the debut album by Polish quartet Nuda

Find albums by this artist

(Eng. Boredom), which includes cornetist Marcin Albert Steczkowski

Find albums by this artist

, guitarist Michal Milczarek

Find albums by this artist

, bassist Marcin Jadach

Find albums by this artist

and drummer Michal Bryndal

Find albums by this artist

. The album presents eight original compositions, all co-credited to all four members of the quartet.

The members of the quartet come from very different backgrounds, between almost mainstream Jazz, via Jazz-Rock Fusion to Avant-Garde Jazz, but the music on this album is mostly improvised and rather free, with limited melodic contents. The overall approach is very minimalistic and the music plays around with sound and silence, creating imaginary, almost ambient soundscapes.

Although the cornet and guitar are at the front line, the quartet distributes equal weight between all four players, which is very effective. The rhythm section often plays in a completely different space-time continuum than the soloing instruments, and even creates polyrhythmic diversity between the bass and the drums. Therefore at times all four musicians play seemingly "inconsistently" between each other, but highly creatively and artistically.

There is no doubt that the album manages to present a fresh, highly unconventional approach to music making and has a lot to offer together to an open-minded listener. The concept needs perhaps a bit of refining and the short playing time (just above half an hour) needs expanding, which can all bee achieved on the next album.

Overall this is a splendid debut effort and a most welcome fresh breath of air. Well done!
---