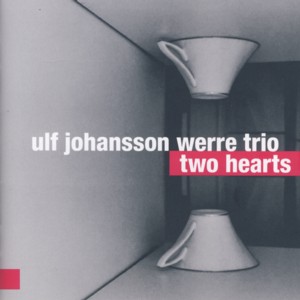 ULF JOHANSSON WERRE ~ TWO HEARTS
FOR TUNE 0146 (Barcode: 5906395808618) ~ SWEDEN ~ Jazz
Recorded: 2019
Released: 2020
---
This is a live recording by a Jazz piano trio comprising of Swedish pianist / trombonist / vocalist Ulf Johansson Werre

Find albums by this artist

and Polish bassist Zbigniew Wrombel

Find albums by this artist

and drummer Wojciech Lubczynski

Find albums by this artist

. The album presents ten tracks, all of which are Jazz adaptations of Swedish and Polish Folk songs, all arranged by Werre.

The music is kept strictly within the mainstream Jazz idiom, sounding like something that might have been recorded in the 1950s. Striding, swinging piano and amicable accompaniment by the rhythm section create a very pleasant and easy Jazz atmosphere, which seems to be hanging to the glory of the Jazz tradition, but adds nothing contemporary to the proceedings.

The concept of arranging Folk songs and using them as a basis for the Jazz environment has been utilized with various degrees of success since many years. Some Polish Jazz albums managed to create sublime projects in this idiom, but this album sadly can´t be counted among them. It trivializes the Folk material rather than upgrading it within the cross-genre transition. The Folk roots and their aesthetics are completely lost here and there is nothing left except for occasional melody quote and a barrage of catchy boogie-woogie phrases.

Werre and his Polish cohorts are of course accomplished musicians and technically this music is without reproach of course, as is the excellent sound quality.

Overall, although this is hardly my cup of tea, this is still a very enjoyable easy Jazz album, which many listeners can enjoy, especially those who listen to Jazz looking for entertainment while drinking cocktails?
---