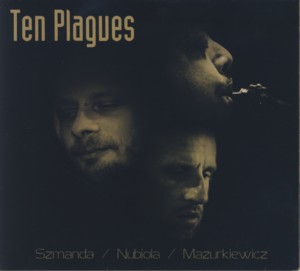 SZMANDA / NUBIOLA / MAZURKIEWICZ ~ TEN PLAGUES
NOT ON LABEL ~ POLAND ~ Free Jazz / Improvised Music
Recorded: 2019
Released: 2020
---
This is the debut album by a trio consisting of Cuban (resident in Poland) saxophonist Luis Nubiola

Find albums by this artist

and Polish bassist Jacek Mazurkiewicz

Find albums by this artist

and drummer Krzysztof Szmanda

Find albums by this artist

. Percussionist Philip South guests on a couple of tracks. The album present five original pieces co-credited to the participating musicians. The very short total playing time (under half an hour) makes this an EP rather than a full album.

Nubiola, who is usually associated with Cuban / Latin Jazz, fits perfectly with the two veteran improvisers, creating an interesting series of spontaneous free pieces, which sound natural. His wonderfully worm saxophone tone is a nice twist, and manages to create just the right kind of interplay with the rhythm section.

The music is completely improvised, but has a strict melodic sub context, which makes it easily accessible to a wide range of listeners. It is also quite minimalist and subdued, which creates a delicate, emotional mood. All three musicians play wonderfully, being veterans of the trade, and the intimate setting enables their individual contributions to be heard clearly.

Overall this sounds like a friendly experiment, which hopefully will lead to a bona fide full album soon. In the meantime we can enjoy this short foreteller and wait for the next one.
---