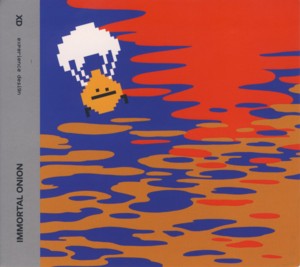 IMMORTAL ONION ~ XD (EXPERIENCE DESIGN)
U KNOW ME 079 (Barcode: 5902860143130) ~ POLAND ~ Jazz-Rock Fusion
Recorded: 2020
Released: 2020
---
This is the third album by the Polish trio Immortal Onion

Find albums by this artist

comprising of keyboardist Tomir Spiolek

Find albums by this artist

, bassist and moog player Ziemowit Klimek

Find albums by this artist

and drummer Wojciech Warmijak

Find albums by this artist

. The album presents eight tracks with the compositions uncredited (as usual) and assumed to be co-created by the trio members. The album was recorded at the excellent Monochrom Studio and engineered by Ignacy Gruszecki

Find albums by this artist

and offers the usual wonderful sound quality.

The music follows closely the pattern initiated by the two earlier albums, creating an amalgam of instrumental Prog and Fusion, based on melodic sketches which are expanded into lengthy instrumental improvisations by the trio members. The sound and overall aura of this album is more electric, although the acoustic piano still dominates the proceedings.

The music is interesting and offers surprising arrangements, sudden tempi changes, volume dynamics, odd meters and excellent soling, which should keep the listener captivated, but all this starts to sound repetitive after a while and it is difficult to see where, if at all, it is going.

There is no doubt that the trio managed to create a unique niche as far as their sound and approach are concerned, but they need to find some new paths to explore in their future recordings, since the first three albums are way to similar to each other and show no real progress.

Having said that, this album is still a solid listening experience for listeners who love Symphonic Prog and melodic Fusion, beautifully performed and offering a superb sound, which is more than most Prog / Fusion albums are able to offer these days.
---