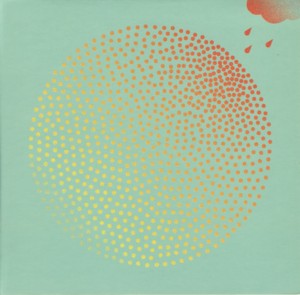 KWASNY DESZCZ ~ KWASNY DESZCZ
MULTIKULTI MPPA 002 (Barcode: 5903068683312) ~ POLAND ~ Avant-Garde Jazz
Recorded: 2019
Released: 2020
---
This is the debut album by the Polish Jazz trio Kwasny Deszcz

Find albums by this artist

comprising of saxophonist Kacper Krupa

Find albums by this artist

, bassist Piotr Cienkowski

Find albums by this artist

and drummer Stanislaw Aleksandrowicz

Find albums by this artist

. These musicians are also members of the Anomalia

Find albums by this artist

septet, hailing from the Poznan music scene. The album presents eleven original compositions, all co-composed by the trio members.

The music, which although based on some sketchy melody lines, is mostly improvised, at times more Free Form oriented and in other instances quite well organized. It is clearly a part of the young Polish Jazz Avant-Garde movement, that is overflowing the local scene in the last decade and seems to be evolving and attracting new young arrivals in its ranks on a steady basis.

In contrast to most Avant-Garde Jazz, which often is loud and aggressive, this music is remarkably minimalist and mostly very subdued, making each sound and note count. The spaces of silence between the sounds are as much important as the sounds themselves. The decision to offer many relatively short pieces rather that extended (and often repetitious and consequently boring) pieces works wonderfully and turns this album into a roller coaster ride, constantly changing intensity, tempi and sonorities.

Although a saxophone trio format usually puts the horn in the center of attention, this trio manages to keep a wonderful balance between the instruments and gives plenty of opportunities to the bass and the drums to show off their, one must admit, remarkable skills, which compliment the superb saxophone parts on an equal footing.

Overall this is an outstanding debut effort, which makes Polish Jazz Avant-Garde proud and proves than the idiom can be not only adventurous but also wonderfully beautiful, emotional and cerebral at the same time. Hats off!
---