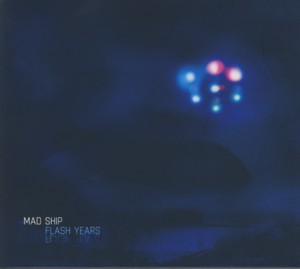 MAD SHIP ~ FLASH YEARS
KOLD 0003 (Barcode: 5706274010480) ~ POLAND ~ Jazz
Recorded: 2019
Released: 2020
---
This is the debut album by the Polish Jazz ensemble Mad Ship

Find albums by this artist

, which comprises of saxophonist Tomasz Licak

Find albums by this artist

, guitarist Kuba Wojcik

Find albums by this artist

, keyboardist Grzegorz Tarwid

Find albums by this artist

and drummer Krzysztof Szmanda

Find albums by this artist

. The album presents nine original compositions, all by Wojcik.

The music presents a highly charged, soaked in synthesizer and electronic effects sound, with an eerie ambiance and very atypical overall approach, surely as far as Jazz is concerned. The pieces range between atmospheric, slow developing vistas a la New Age and energetic up-tempo dense explorations, almost Heavy Metal in nature, surely not something one would expect from a Jazz album, but on the other hand a reflection of a steady trend in contemporary Polish Jazz to increasingly involve electronics within the genre. But pushing these convoluted descriptions aside, this album definitely offers an interesting listening experience, which keeps surprising and keeps the listener at his toes.

All four players are experienced and talented musicians and therefore the performances are highly effective. Licak, in spite of his harsh tone, plays highly lyrically and melodically for the duration, spicing the proceeding with some superb Free Form improvisations. Wojcik concentrates on electronics and his guitar contributions are mostly riffs and background chords, with occasional soloing, Tarwid, nor surprisingly, steals the show completely with his brilliant synthesizer parts, which provide most of the content and finally Szmanda keeps the entire havoc together with his excellent versatile and solid drumming.

Overall this is a superb debut effort, perhaps still not completely focused but offering a lot of very interesting music, with a strong emotional impact resulting in a dense, demanding listening experience. As usual, the most important factor is the effort to leave conventional approach behind and keep exploring, which this music surely represents. I am already waiting for the next album, but in the meantime this one is certainly worth investigating!
---