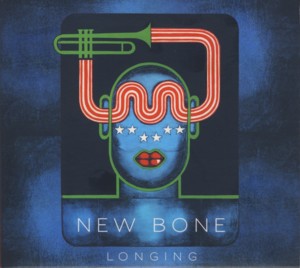 NEW BONE ~ LONGING
CM 1030 (Barcode: 5907996083732) ~ POLAND ~ Jazz
Recorded: 2019
Released: 2020
---
This is the sixth album by Polish Jazz quintet New Bone

Find albums by this artist

founded in 1996 and led by trumpeter / composer Tomasz Kudyk

Find albums by this artist

and including in its current lineup saxophonist Bartlomiej Prucnal

Find albums by this artist

, pianist Dominik Wania

Find albums by this artist

, bassist Maciej Adamczak

Find albums by this artist

and drummer Dawid Fortuna

Find albums by this artist

. The album presents nine original compositions, eight by Tomasz Kudyk and one by his late father Jan Kudyk

Find albums by this artist

, who was one of the pioneers of Polish Traditional Jazz, trumpeter / composer and founder / leader of the Jazz Band Ball Orchestra

Find albums by this artist

.

The music of New Bone was initially characterized by strict mainstream Jazz tendencies, but with the arrival of Wania in 2013 it took a slow but consistent turn towards more modern approach, which on this album reaches an apogee of bravado and creativity. Still firmly based on melodic themes, full of melancholy and typical Polish lyricism, the music now ventures into much more complex, both harmonically and rhythmically, explorations, moving even further away from the old-fashioned customary mainstream doodling.

Kudyk weaves beautiful themes, which on this album reflect his feelings resulting from his Father´s passing, which are sometimes heartwrenching, and which is completely understandable. All five members of the band are clearly experienced and highly talented musicians, who mange to maximize the qualities of the themes, stretching them into beautiful mini suites. The soloing by Kudyk and Prucnal is stronger than ever, highly inspired by the collective input of all the players, producing a well structured and attractive result time after time.

Wania is, as always, the alpha and omega of everything that happens around him, taking the music into another dimension (or more than one for that matter), playing wonderful accompaniments all along the way and wondering into stratosphere when soloing. He is one of the most unique players today on the European and every album in which he takes part is irresistible.

The rhythm section does a wonderful job supporting the soloist and providing a steady flow to the music, all this without being obtrusive, which probably is the best compliment one can offer to a rhythm section.

Overall this is by far the best album by New Bone so far, miles ahead (pun intended) of everything recorded previously and an enormous promise as far as their future is concerned.

As much as I was sorry in the past to criticize the band for conventionality, it gives me an enormous pleasure now to praise them now for their success. This is Polish Jazz at its best!
---