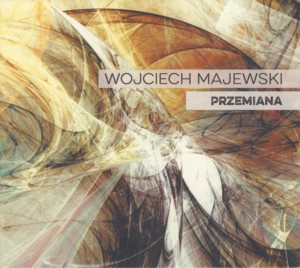 WOJCIECH MAJEWSKI ~ PRZEMIANA
SOLITON 690 (Barcode: 5901571096902) ~ POLAND ~ Jazz-Classical Fusion
Recorded: 2018
- 2019
Released: 2020
---
This is the seventh album by Polish pianist / composer Wojciech Majewski

Find albums by this artist

, and his first solo piano recording in the Jazz realm (he did record a solo piano album of Classical Music). It presents ten tracks, four of which are his original compositions and the rest are his interpretations of Jazz / Pop songs (two by David Bowie).

Majewski shares his activities between the Jazz and Classical Music scenes, which is also clearly evident on this album. The source of this music originates obviously in Jazz and popular music, but the sound and performance are deeply rooted in Classical Music, which creates a Jazz-Classical Fusion par excellence.

Personally I find this album divided into two matching, but somewhat different parts, one which presents the original compositions and the other which presents the interpretations of the songs.

Two of original compositions are expanded into mini-suites, lasting over ten minutes each, which allow Majewski to express a wide range of emotions and his excellent pianistic technique. The other two, although slightly more concise, are no less expressive and emotional. The interpretations of the songs are very liberal with the melodic themes, and become entangled in passionate ornamentation, using a barrage of chords, rhapsodic arpeggios and almost percussive attack of the keyboards, creating a storm of sensations and sounds.

As a result the overall effect of this album is probably more similar to a solo piano recital of gargantuan Classical Music, than a Jazz album, or at least this is how most listeners will probably perceive it. Nevertheless this is still a superb musical experience, which will not leave any listener "on the fence". Personally I had a great time listening to this music, but to each his own.

Connoisseurs of Jazz-Classical Fusion will have a field day with this, but the album does require patience and attentive listening – as usual quality does not come easy! Highly recommended!
---