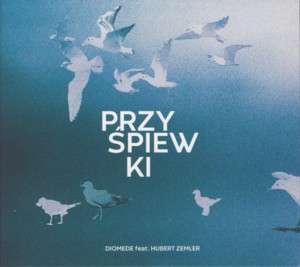 DIOMEDE ~ PRZYSPIEWKI
AUDIO CAVE 2020/008 (Barcode: 5908298549056) ~ POLAND ~ Avant-Garde Jazz
Recorded: 2019
Released: 2020
---
This is the second album by Polish Jazz outfit Diomede

Find albums by this artist

, which started as a duo of keyboardist Grzegorz Tarwid

Find albums by this artist

and saxophonist Tomasz Markanicz

Find albums by this artist

and on this album was expanded to a trio with the addition of drummer Hubert Zemler

Find albums by this artist

. The album presents ten original compositions, which are not credited on the alum´s artwork and assumed to be co-composed by all three musicians.

The music seems to stick to the modus operandi of the debut album, presenting melodic pieces, which are only partly related to the Jazz idiom, but involve the element of improvisation and the adventurous spirit, and which could be easily perceived as Art Rock, cinematic music, World-Jazz Fusion and many other sun-genres. This chameleonic character of the music is truly charming and fascinating, and keeps the listener on his toes for the entire duration.

Tarwid emerges as one of the most interesting representatives of the young Polish Jazz scene, and his recorded legacy so far offers an astonishing stylistic diversity and unusual level of excellence, which are certainly worth watching closely. His contributions on this album are a clear indication of his multi-talented musical personality.

Markanicz evidently matured since the recording of the debut and his improvising skill and power of expression are certainly more impressive, placing him shoulder to shoulder with the two more experienced colleagues.

Joining forces with Zemler, who is another example of the strength and diversity of the Polish scene and a remarkable performer, certainly added a lot of new creativity into the outfit´s presence and strengthened the overall sound significantly, now able to present a full palette of an bona fide ensemble.

Overall this is a very impressive album, wonderfully unusual, rich in musical contents and surprising variety, excellently performed and obviously standing out as far as creativity and exploration are concerned. Absolutely well done, Gentlemen, and congratulations are in order for passing the critical sophomore album test.
---