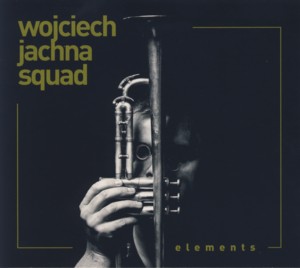 WOJCIECH JACHNA SQUAD ~ ELEMENTS
AUDIO CAVE 2020/005 (Barcode: 5908298549025) ~ POLAND ~ Jazz
Recorded: 2019
Released: 2020
---
This is the debut album by the Polish Jazz ensemble Wojciech Jachna Squad

Find albums by this artist

led by trumpeter / composer Wojciech Jachna

Find albums by this artist

and including also guitarist Marek Malinowski

Find albums by this artist

, keyboardist Jacek Cichocki

Find albums by this artist

, bassist Pawel Urowski

Find albums by this artist

and drummer Mateusz Krawczyk

Find albums by this artist

. Four of these musicians (except for Malinowski) recorded already an album together five years earlier, called "The Right Moment

Find albums with this title

". The album presents seven original compositions, three composed by Jachna, two co-composed by all five members of the ensemble and one each by Cichocki and Malinowski.

During the last decade (2010s) Jachna emerged as one of the leading representatives of the young (but rapidly maturing) Polish Jazz musicians, leading and taking part in many projects, which cover a diverse stylistic range between modern mainstream to advantageous avant-garde, managing to sound equally convincing regardless of the circumstances. The fact that his name appears on about thirty albums released during that period is no less than astonishing.

This album seems to fall somewhere in the middle of the range, based on strictly composed and melodic themes on one hand, but being widely open to momentary free improvisation excursions. The addition of the guitar added new colors and influences like Blues and even Fusion, albeit subtle enough to be distinguishable primarily by a trained ear. The overall sound of the ensemble is brighter and spacier than on the a.m. album and noticeably more electric, with the addition of synthesizer and electric guitar sounds.

Jachna´s trumpet parts, superb as always, seem to gradually gong more and more mellow and lyrical, loosing the rough edge that characterized his early days, which for me works all for the best. He is an absolute Master of minimalist expression and manages to create a remarkable amount of tension within relative brief solo parts.

But the rest of the ensemble players all perform beautifully as well, emerging as ideal partners to the leader and contributing impressive soloing and collective performances and excellent rhythm section backbone support, which is inventive and contributes essentially to the entire musical fabric. It is truly satisfying to see Jachna and his partners evolving and exploring, continuously producing wonderful albums on the way.

Overall this is a most impressive and deeply moving album, another great achievement for Jachna and his colleagues and a superb addition to his extensive recorded legacy. For all lovers of Polish / European Jazz this is an absolute must!
---